Panasonic LUMIX GH3 official: WiFi, OLED viewfinder and 72Mbps HD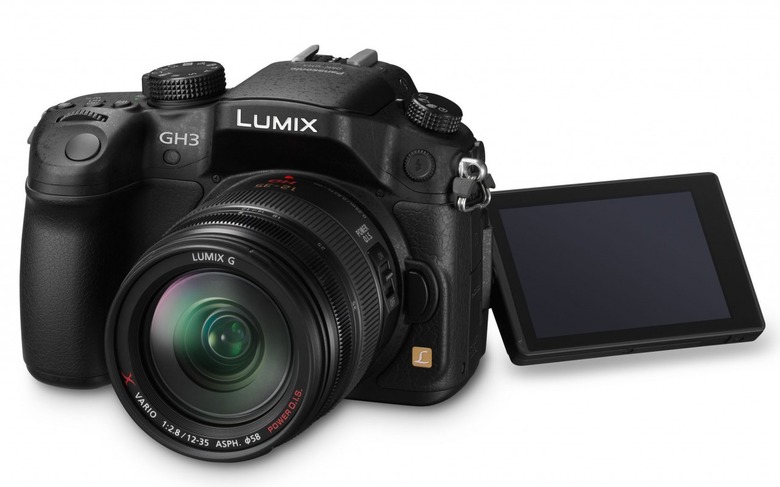 Panasonic has revealed its latest micro four thirds camera, the LUMIX DMC-GH3, targeting a more ambitious breed of photographers who demand an integrated viewfinder and other DSLR features. Packing a 16.05-megapixel sensor, good for up to ISO 12,800 (25,600 extended), Venus Engine processor, WiFi, 3D noise reduction and onboard HDR photo creation, the GH3 includes both a positionable 3-inch 614k dot OLED touchscreen and a 100-percent field-of-view OLED electronic viewfinder.
The viewfinder also includes an eye sensor, which can automatically shut off the main display when it recognizes that it's being used, thus saving battery life. There's also 6fps burst shooting at full resolution (rising to 20fps in 4-megapixel mode) and the HDR mode works in the background so that there's no delay to taking the next shot.
As for video, up to 1080p Full HD is supported, with Dolby Digital sound, an integrated stereo microphone, and twin 3.5mm jacks for headphones and an external microphone. Footage – recorded at up to 72Mbps (ALL-Intra) or 50Mbps (IPB), with frame rates of 60p, 30p, or 24p – can be stored in AVCHD, AVCHD Progressive, MP3, or MOV formats, and there are various manual control options as well as autofocus, autofocus tracking, and face-recognition autofocus. The touchscreen can be used for touch-setting autofocus points.
The pop-up flash is GN12 equivalent at ISO 100, though there's a mount for a separate flash if it's not powerful enough for your tastes. Panasonic offers an external flash with wireless and LED for video, as well as a battery grip. Video output can be delivered in real-time using the mini HDMI connection, with the choice of showing solely the camera's view, or the menus as well.
Panasonic has also baked in WiFi b/g/n, used for transferring files either to the cloud or a computer, and there's a remote app for controlling the GH3 wirelessly. If your phone or tablet has GPS, that data can be appended to each photo or clip too. Onboard controls can be reprogrammed, with five hardware function buttons and two software presets, and the whole camera is ruggedized against dust and splashes.
Joining the LUMIX G X VARIO 12-35mm, f/2.8 ASPH. POWER O.I.S. lens already available is a new zoom, the LUMIX G X VARIO 35-100mm. That offers f/2.8  and POWER O.I.S. as well, and both are dust/splashproof. Obviously any other micro four thirds lenses will work with the GH3, though you'll need a mount adapter.
Panasonic is yet to confirm final pricing, but expects the new model to be on shelves by the end of the year with a roughly $2,000 tag.