Panasonic LUMIX G5, FZ200 and LX7 Hands-on
Not everybody wants a full DSLR and not everybody is content with the camera on their smartphone. That's a difficult segment to fill, but Panasonic believes it has the line-up necessary with its latest range of cameras. The LUMIX G5, FZ200 and LX7 each target different users with different needs, but they also all share a commonality of feel and function that we've come to expect from Panasonic. Read on for our hands-on first impressions.
Promising most flexibility is the Panasonic LUMIX G5, the company's latest Micro Four Thirds interchangeable lens camera. The G5 debuts a new 16.05-megapixel Live MOS sensor hooked up to Panasonic's reworked Venus Engine, in a chunkier chassis than the smaller GF-Series we're big fans of here at SlashGear. That mini-DSLR styling makes for a camera that's easy to hold in both regular and portrait orientations, and there's a new function lever that falls neatly under your shutter finger and allows easy zoom, exposure or aperture control during shooting.
Panasonic LUMIX G5
[nggallery id=53]
It also comes into play when you're navigating through the menus or reviewing shots, though there's also a turn-and-push dial on the back panel next to the tilting, swiveling 920k dot LCD display. The bigger-than-GF-Series body also leaves room for a live viewfinder, though, which increases the resolution to 1.44m dots and almost 100-percent field of view. It's a great addition to a Micro Four Thirds model, and helps the G5 feel like a "grown-up" DSLR when framing shots, but Panasonic also uses it for its clever Eye Sensor Auto Focus system.
Panasonic LUMIX G5 sample shots
[nggallery id=58]
We had no real problems getting the G5 to lock focus swiftly, but in Eye Sensor AF mode the camera automatically starts focusing on likely subjects when it senses your eye is at the viewfinder. It's a quiet shooter, too, thanks to a new Electronic Shutter mode borrowed from some regular DSLRs, though unlike the majority of those cameras there's a range of integrated effects and even help tutorials for the more advanced features.
You lose a little of the pocketable convenience to fit all that in – along with a stereo microphone and Full HD video recording, no less – and the G5 probably isn't the camera to take along on a night out, but it's already shaping up to be an excellent compromise between the size (and sizable price) of a full DSLR and the sort of performance you'd only hope to coax out of a compact camera.
Still, while the G5 is the obvious photographer's choice, that's not to say we weren't swayed some by the Panasonic LUMIX FZ200. At first glance, the two look surprisingly similar, but where the G5 allows for some lens swapping, the FX200 settles on a single lens with a huge 24x optical zoom. It's paired up with a 12.1-megapixel High-Sensitivity MOS sensor and can deliver a consistent f2.8 aperture throughout the zoom range.
Panasonic LUMIX FZ200
[nggallery id=54]
Now, the FZ200's Live View Finder is – at 1.312m dots – slightly lower resolution than that of the G5 (though still near 100-percent coverage) it does still have a folding, twisting display, and the creative potential of the optical zoom is not to be underestimated. The unit we were testing was pre-production, so we won't take too much from the (already excellent) sample shots, but it's clear to see that Panasonic's engineers have been working particularly hard on cutting down camera shake when you're at the higher limits of the zoom.
Panasonic LUMIX FZ200 sample shots
[nggallery id=60]
These photos were taken using a pre-production camera model and does not reflect final picture quality
There's both optical and digital image stabilization, and they do an impressive job of keeping things level even when you're super-close to your subject. In the two shots of the Audi TT, for instance, each of which were taken at full 24x zoom, the crispness of the images belie the fact that we were some distance away. It's easy to fit a huge zoom to a camera and call it a day; it's far harder to deliver a finessed balance of zoom and picture stability, and we're already hugely excited to get our hands on a final production FZ200 to see just what sort of shots we can coax out.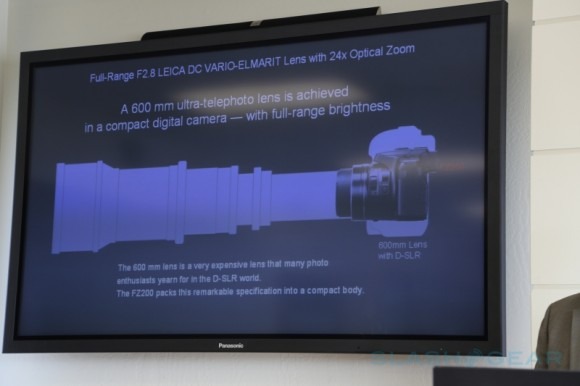 Finally, there's the Panasonic LUMIX LX7, looking for all the world like the original LUMIX GF1 but with a fixed 3.8x optical zoom lens. The most pocketable of the three – both in terms of bulk and price – it's also our favorite design; we were big fans of the GF1 (and were a little disappointed that Panasonic gradually diluted the industrial aesthetic down for subsequent models) and a lot of that appeal has been carried over.
Panasonic LUMIX LX7
[nggallery id=55]
There are a sizable number of physical controls and dedicated buttons, given this is a compact camera. You get a proper mode wheel (when even the current GF3 uses a virtual selection carousel) and an AF/AE Lock key on the back as well as shortcuts for ISO and white balance. The camera as a whole nestles neatly into the hand; it's easy to keep stable and, while there's no Live View Finder, the 3-inch 920k dot LCD is bright enough for outdoor use. You don't get a tilt/swivel hinge, but we're content to trade that given how easy it is to slip the LX7 into a pocket; more missed is the touchscreen introduced on the GF2, which makes for very easy touch-to-focus control.
Sample video (make sure to select and watch 1080p HD)
In practice, it's a great camera to pull out and grab an impromptu frame, though it does have its foibles. As with most compacts it loves light, and low-light shots – especially when there's a section of brighter light, such as through an open door or window – can end up murky and grainy. Scenes with less disparity in lighting, though, are captured with good color accuracy, though whites could sometimes come out with a slight blueish tinge.
Panasonic LUMIX LX7 sample shots
[nggallery id=57]
Outdoors, the LX7 is in its element, and we particularly appreciated its macro abilities, with some beautifully delicate focusing possible on close-up subjects like flowers. The optical zoom obviously falls well short of the capabilities of the FZ200, but it's a solid compromise between bulk and ability, and it shifts swiftly in response to the toggle that surrounds the shutter release. Interestingly, Panasonic's iAuto mode doesn't earn itself a dedicated button on the top panel; we're pleased to see the LX7 prioritizes a dedicated video recording trigger. Footage is recorded at up to 1080p Full HD, and we were impressed by the quality the LX7 could pump out.
So, three very different cameras, for three relatively distinct segments of the marketplace. The LUMIX G5 is undoubtedly the most flexible option, but it's tough to argue with the optical zoom capabilities of the LZ200 – outfitting the G5 with a Micro Four Thirds zoom of similar capabilities would make for an expensive package overall. Then there's the LX7, which we could easily see those with regular DSLRs opting to drop into a pocket for more casual photography.