Panasonic launches new PT-AE4000U HD projector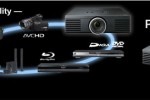 When it comes to home theater gear most guys want the biggest image that they can get. Unless you are loaded and can afford a 100-inch HDTV, what you are going to be shopping for is a projector when you are out for a really big picture. Panasonic has announced a new home theater projector called the PT-AE4000U that is designed for the home theater enthusiast.
The projector has 1,600-lumen brightness and a 100,000:1 contrast ratio. The projector has Panasonic's Hollywood tuned high picture quality and Lens Memory feature. The new projector is also VIERA Link compatible and has a programmable 12V trigger. The projector supports 2.35:1 wide aspect ratio screens.
Other features include support for 120 frames per second and 60 frames per second signal input as well as 24 frame per second support. The programmable 12V trigger is for automated theater setups with things like automatic rollup screens. The projector can throw a picture 120-inches from only 11 feet away. The 1080p projector has HDMI inputs and will be available this month for $2,499.