Panasonic launches cellphone-like Skype WiFi handset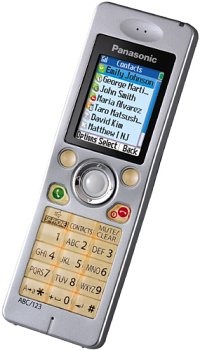 Home phone design is lamentable.  Yes, there are a few exceptions – Bang & Olufsen, I'm drooling at you – but in general the humble PSTN handset is the dreary cousin to the glittering, posing cellphone.  What's surprising is the number of manufacturers whose different departments churn out both cellular and land-line phones, but across that great corporate divide the DNA never seems to travel.  Well, Panasonic have finally decided to change all that; hence their latest handset – a WiFi Skype phone in fact – looks very similar to the company's mobile range.
Problem is, Panasonic's cellphones aren't all that pretty.  So the KX-WP1050 ends up looking like a cross between a TV remote and a display reminiscent of one of those swish Sharp colour-screen microwaves that can tell you how to cook a ready-meal. 
Still, I'll give them credit where it's due.  It's a completely PC-free system, hooking up to your WiFi rather than needing some annoying USB dongle hanging out the back of your computer.  They've made it – apparently – easy to set up, too, with the handset coming as part of a kit complete with travel WiFi router, auto-voltage-adjusting power supply and leather carry case.  The router also establishes 256-bit AES WPA encryption automatically, and can be used to charge the handset when a spare USB port isn't around.
Standby of 55hrs and 4.5hrs talk-time isn't bad, although the $399 MSRP might make a few people gasp.  As a totally complete portable set-up, however, it scores extra points over a handset-only system.  It would be a good starting point for a keen traveller's hotel networking kit.
Panasonic [via eHomeUpgrade]