Panasonic is making its own VR headpiece
It seems that after smartwatches, VR goggles are slowly becoming the latest tech darling. You are starting to see everyone trying to give their own spin to the gadget, from those that utilize smartphones for display and processing as well as those that don't. Panasonic, who has practically bowed out of the smartphone race, aside from a few mobile devices, is now trying its luck in this space. Its early VR goggles prototype shows a design that is easier to wear than an Oculus Rift but still less stylish than a Samsung Gear VR.
Panasonic does have the display and electronics experience to make this happen, but for almost everyone aside from the pioneers, it's pretty much still a new field. Perhaps it's to early to tell how Panasonic will fair in this endeavor, but the manufacturer already had enough made to showcase the device in a private press viewing this week.
Instead of being smartphone holders like the Gear VR or the Google Cardboard, Panasonic opted for a more independent device, more similar to the Oculus Rift and the Sony Morpheus. The display utilizes OLED technology and can support a framerate of 75 fps and angles of up to 90 degrees. It isn't exactly pretty to look at, but it's still a prototype so a lot can still change. But based on this current design, it seems that Panasonic is aiming for a form that can be worn like a regular pair of glasses, hooking on to the ears. This, in theory, would be a more comfortable design than the straps that the Gear VR or Oculus Rift require.
Panasonic didn't reveal yet the sources of content for the goggles, but it did show one such possibility. It showcased an omnidirectional camera that can shoot photos or record video from all sides, pretty much like Samsung's "Project Beyond". Again, in terms of looks, it is nothing to write home about, at least not yet.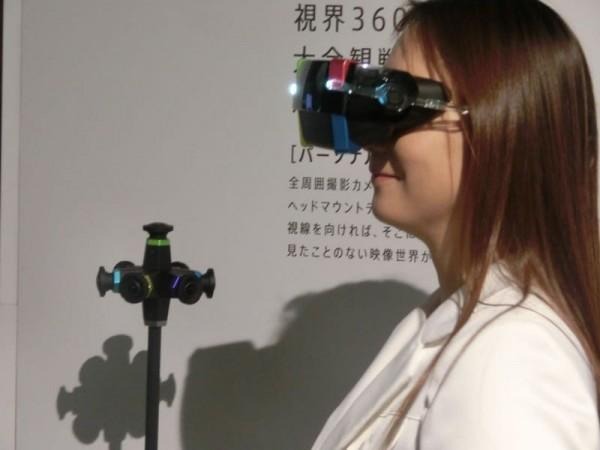 Whether Panasonic plans to take this into a retail phase and when, it isn't saying yet. It seems that the company does plan to make use of the technology at the upcoming Tokyo Olympic Games in 2020, which gives it a few good years to polish it up.
VIA: Nikkei Technology