Panasonic introduces three new portable projectors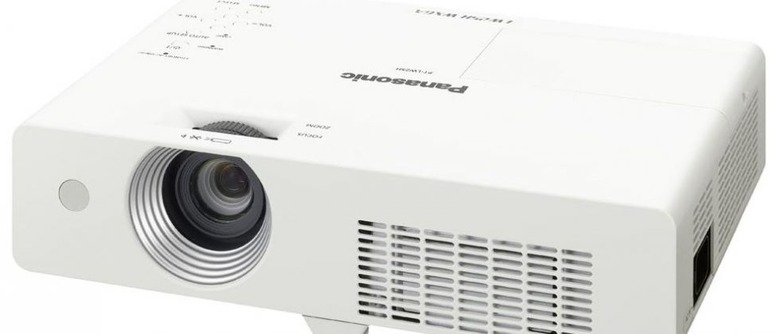 Pico projectors are all the rage, but if you need some premium functionality in a package that's more luggabble than pocketable, Panasonic's got your back with a trio of new models. The PT-LW25HU, PT-LX30HU and PT-LX26HU projectors (catchy!) weigh in at a scant 6.6 pounds each, with dimensions that are just barely bigger than a college textbook at 13.7 by 4.1 by 9.7 inches. Ranging in price from $849 to $1,099, the projectors slide into the middle range of Panasonic's line.
The cheapest is the PT-LX26HU, which makes due with a 2600 lumen lamp and a maximum resolution of 1024x768. Its brother the PT-LX30HU bumps up the lumens to 3000 with a $1099 price tag, but everything else remains the same. If you're up for a wider experience in your semi-portable projection lifestyle, the PT-LW25HU increases the resolution to 1280x800 with a 16:10 aspect ration, but the lumen rating is lowered to 2500. The more cinematic of the three newbies retails for $899.
Panasonic claims up to 4,000 hours of use before the lamp needs replacing, and you can use the company's proprietary Multi Projector Monitoring and Control Software to operate the controls remotely. Real-Time Keystone correction allows the image to square itself automatically. The new models should be available immediately at Panasonic's retail partners, and it looks like they're showing up an a few online retailers as well, at a significant discount in some cases.