Panasonic HX-A1 wearable action cam records your POV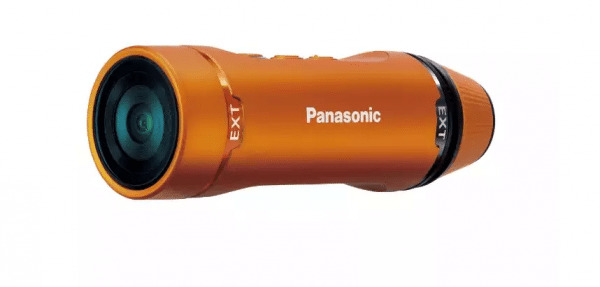 Panasonic has introduced its new HX-A1 action camcorder, a small cylindrical wearable camera that records the wearer's POV while remaining resistance to the environmental conditions to which it might be subjected. The A1, as it is being called, is poised to compete with other action cams like the GoPro and Sony's Action Cam, but it comes with a few features we don't often see in the category, including support for recording in completely dark settings and the ability to send footage to another camcorder as a sub-video within the main video.
The A1 action camera is bid as a wearable camera because of its light weight (45 grams) and its cylindrical design, allowing it to be easily attached to the user's body or to some other object like a bike; it includes accessories that facilitate clipping it to different objects, such as a visor or bicycle handlebars.
The camera is designed to be rugged, with an IPX8 waterproof rating (can be submerged without housing to 5ft.); it is shockproof from heights up to 5ft., dustproof, and able to withstand temperatures down to 14F. It is able to record Full HD 1080p video, and includes the ability to function as a webcam when connected to a device using a USB cable.
There's integrated Wi-Fi, but more notable is its "Wireless Twin Camera" feature, which is compatible only with the Panasonic W970 and W870 models. Using WiFi, the action camcorder can have its footage combined with the main footage from one of those other camcorders, being presented in a "sub-window". This expands the shooting options users have, allowing more than one stream to be shown simultaneously, or different angles of a single subjects.
Rounding it all out is a "0 Lux Night Mode", which allows footage to be recorded in total darkness if a third-party IR light source, such as an IR torch, is also used. Panasonic hasn't yet revealed the pricing or the release date.