Panasonic HomeHawk Floor lamp has a built-in hidden camera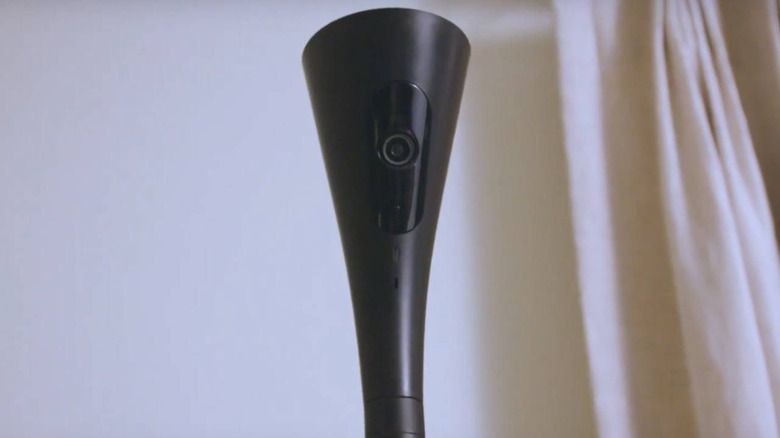 Panasonic is seeking funding for HomeHawk, a new floor lamp that features a built-in camera. The product is billed as an alternative to existing indoor home security cameras, one that blends in with the decor and doesn't require mounting. The lamp offers the same array of security features as many competing models, but with the added benefit of being essentially invisible.
Indoor security cameras are a popular way to keep tabs on one's kids or pets, as well as monitoring for security issues and gathering footage that could be useful for insurance claims. The downside to these cameras is their obvious appearance as, well...a camera. Guests may feel uncomfortable with a visible camera nearby, mounting it may damage a wall and regardless, there's usually an unsightly cable that needs tucked away.
These are all points Panasonic makes to highlight the benefits of its HomeHawk Floor, a stylish lamp with a modern appearance and a small camera lens peeking out the top. The lens is situated with the ideal height and angle for monitoring one's home, according to the company, and it also doubles as a light source.
HomeHawk Floor supports high-definition video recording, motion detection, color night vision, plus there's integration with popular assistants. Because the camera is built into the lamp, there's a single power cord coming out the base that plugs into the wall. Buyers can choose 2ft, 4ft, and 6ft lamp options.
Assuming the house loses power for some reason, the camera will continue for work for up to 1.5 hours on backup batteries. Users can schedule and control the light using a phone or voice assistant, there's a 140-degree wide camera, and videos are stored on a microSD card.
Panasonic is currently seeking funding for HomeHawk Floor on Indiegogo, where it is offering a super early bird version for $185 USD. Shipping to backers is expected to start in May.