Panasonic HDC-SD10 and HDC-TM10 Full-HD camcorders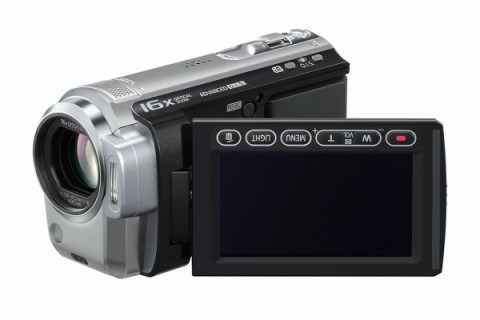 Panasonic have taken the wraps off of two Full-HD AVCHD camcorders, which it claims are the lightest of their kind.  The Panasonic HDC-SD10 and HDC-TM10 each have 16x optical zooms, optical image stabilization (OIS) and touchscreen controls, and record to SD/SDHC memory cards.  The Panasonic HDC-TM10 also has 8GB of its own internal storage. 
Both can record Full-HD 1920 x 1080 footage with Panasonic's iA ("Intelligent Auto") function, which automatically selects between scene modes and OIS settings, exposure and face detection, and Intelligent Contrast Control to suit the shooting environment.  There's also AF/AE Tracking, which can ensure a moving subject is kept in focus.
Up to 32GB SDHC cards are supported, which in the case of the TM10 gives a total of 40GB capacity.  Each camcorder supports pre-recording (where three seconds of footage are buffered before the record button is actually pressed) and one-connection burning with Panasonic's USB DVD burner.  The Panasonic HDC-SD10 and HDC-TM10 will be available in the UK in June, priced at £499.99 ($774) and £529.99 ($820) respectively.
Press Release:
Introducing the World's Lightest* Full-HD Compact Camcorders – the Panasonic HDC-SD10 and HDC-TM10

Continuing to push the boundaries, Panasonic is pleased to announce the release of 2 new camcorders. Weighing a mere 227g the HDC-SD10 and HDC-TM10 are the world's lightest1 full high definition camcorders – making them the perfect companion to capture those special moments. Don't let the size fool you – these camcorders are packed full of technology – including an impressive 16x optical zoom, touch screen control, iA with AF tracking and Advanced O.I.S (Optical Image Stabiliser) assuring clear zooming by minimising the hand-shake that often spoils zoom shots. Pretty smart indeed!

The SD10 and TM10 differ only by their recording format – the SD10 records to SD/SDHC Memory Card, while the TM10 offers 8GB built in memory and SD/SDHC Memory Card recording for the ultimate convenience. Whatever your preferred media – Panasonic's new additions are sure to please.

*For AVCHD format full-HD camcorders, as of May 19, 2009

The World's Lightest Compact Camcorders

Weighing less than 230 g, the HDC-SD10 and HDC-TM10 are the world's lightest1 full high definition camcorders – so offer fatigue-free use even for long shooting sessions. Their compact size lets them fit into the palm of the hand, for anywhere, anytime recording of high-quality, 1920 × 1080 full-HD images. These compact camcorders can be easily slipped into a handbag or a pocket, ready to capture video images with snapshot ease.

Zoom in

Featuring a high-powered 16x optical zoom, the SD10 and TM10 clearly capture distant subjects, while the Advanced O.I.S. minimises blurring. This stabilization function is essential for preserving full-HD image quality when zooming, where hand-shake increases proportionally to the level of magnification. Advanced O.I.S., which detects and corrects for hand-shake around 4,000 times per second, combines with the 16x optical zoom to produce clear, stable zoom shots. The new Active mode also extends the hand-shake correction range, reducing the kind of hand-shake that often occurs when shooting while walking, to ensure crisp, clear images.

Point and Shoot with AF/AE Tracking

The HDC-SD10 and HDC-TM10 feature the iA (Intelligent Auto)** function, which automatically sets the most suitable Scene mode according to the shooting conditions. These include Advanced O.I.S., which compensates for hand-shake to eliminate blurring; Face Detection, which adjusts the exposure so faces are captured perfectly; Intelligent Contrast Control, which helps ensure proper contrast; and Intelligent Scene Selector, which determines the shooting conditions and automatically selects the Scene setting that will provide optimal results.

Both camcorders are also equipped with AF/AE Tracking, which automatically tracks a moving subject for consistently beautiful results. AF/AE Tracking, which was very popular in previous models, differs from normal auto settings in that, once the user touches a selected subject on the touch-screen – the subject can be at the centre of the screen or at an edge – and locks onto the subject, AF/AE Tracking maintains the focus and exposure even if the subject moves or turns to one side. This records the subject with the optimal AF/AE (Auto focus/Auto exposure) settings.

The HDC-SD10 and HDC-TM10 lead the way for future camcorders, both in image quality and compact convenience. They are great not only for recording special occasions like vacations and weddings, but for capturing everyday situations in breathtaking, full-HD images. They represent a whole new breed of camcorders that give users the freedom to enjoy more active shooting styles.

**The functions included in iA may not be applied when conditions do not call for them.

SD Card – The Perfect Partner

As the image quality and data volume continue to increase in camcorders, users are demanding more compact, larger capacity recording media. This has led the SDHC/SD Memory Card to become a de facto standard, thanks to its large capacity of up to 32 GB and its tiny, postage stamp size. In addition to bringing significant advantages to smaller and lighter camcorders, the SDHC/SD Memory Card also differs from a hard-disk drive because it has no transport mechanism, making it highly shock resistant and enabling faster recording starts. The SDHC/SD Memory Card's high environmental resistance also eliminates concerns about damage to data from dust and water splashes. Because the card can be removed from the camcorder and carried around, it is easy to share data with friends and family. It is also an optimal bridge media for PCs.

Twin Memory Recording – Relay Recording (HDC-TM10)

The HDC-TM10 records full-HD images onto the built-in memory or an SDHC/SD Memory Card (optional), and features a Relay Recording function. When the built-in memory being used to record images becomes full, this function automatically switches the recording media to the SDHC/SD Memory Card to provide uninterrupted recording. When the TM10 with an 8-GB built-in memory is mounted with a 32-GB SDHC Memory Card, it has a total storage capacity of 40 GB to allow extended recording without interruption. Video data that is recorded by being split onto the two media types can easily be merged inside the camcorder after shooting and saved to an SDHC/SD Memory Card*** . When using a PC/DVD burner, the data can also be automatically merged and saved onto a DVD**** . This allows important scenes to be seamlessly viewed.

***The SDHC/SD Memory Card must have memory space available that is larger than the data in the built-in memory to be merged.

****Automatic merging is possible only when data is saved in AVCHD format.

Designed for you

Both models feature a touch-screen that allows icons displayed on the LCD to be easily operated by touching them with a fingertip. The touch-screen lets users operate a variety of functions intuitively without taking their eyes off of the subject on the LCD.

The frequently used Record and Zoom buttons are also positioned under the LCD. This is convenient when shooting at a low angle, which is difficult using normal grip style controls, and when rotating the LCD to take self-portraits. The Zoom buttons also let the user adjust the zoom slowly, for highly accurate framing that's difficult to do with the high-speed zoom lever on the camcorder body.

Save your special moments

Most people use their camcorders for three main purposes: to shoot, play, and archive video recordings. Panasonic believes simplicity is the key! All you need to do is connect the camcorder via USB cable to a VW-BN1 DVD Burner (optional), press a single button and the recorded video clips from an SDHC/SD Memory Card, built in memory or hard disk are copied to a DVD disc (DVD-RAM/-RW/-R/-R DL0. What could be simpler! No PC in sight! You can even select AVCHD for HD playback on a large screen TV using a Blu-ray Disc™ player or DVD burner. Or choose MPEG-2 for easy playback using a DVD player. This makes video archiving and playback much more convenient.

Pre-Rec function – how did we manage without?

With many camcorders it is easy to miss capturing a critical moment. For example, to capture a goal being scored in a football match, the Record button has to be pressed every time a player attempts to shoot. The problem, of course, is that very few shots actually result in goals, but each one has to be recorded just in case. The Pre-Rec function eliminates this problem. When the Pre-Rec function is on, the camcorder cleverly records three seconds of images into an internal buffer memory. Then, when the Record button is actually pressed, the three seconds immediately prior are added at the beginning of the clip being recorded. This captures the player in the act of kicking the ball even if the Record button isn't pressed until after he made the goal. So now all you need to do is practice shooting that goal!

SD Networking with VIERA and Blu-ray Disc™ Player

Both of the new camcorders are compatible with the VIERA Image Viewer function. This lets the user play videos on a large screen by simply inserting a recorded SDHC/SD Memory Card into the SD card slot of a Panasonic VIERA***** TV. It provides instant playback of video clips recorded in the AVCHD format in full-HD quality. Similarly, video recordings can be easily played by using a Panasonic Blu-ray Disc™ player.

Highly specified, easy to use and effortlessly portable, Panasonic's HDC-SD10 and HDC-TM10 – the world's lightest camcorders are available from June.

*****P54Z1/P46Z1, P50V10/P42V10, P46G15/P42G15/P50G10/P46G10/P42G10, P50S10/P46S10/P42S10, L37V10/L32V10, L37G15/L37G10/L32G10, L42S10/L37S10/L32S10, L32X15 (JPEG format still images can be viewed with other SD card slot-equipped models).
[via Pocket-lint]