Panasonic Hair Washing Robot and Electric Care Assistance Bed Showcased in Japan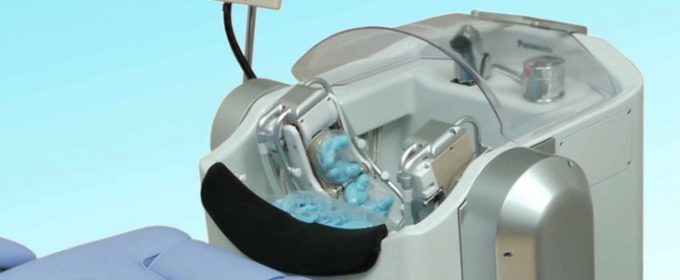 Taking care of those who can't necessarily take care of themselves is the job of many, but sometimes it's hard to get to all of the places that you're needed. That's why the robotics market makes so much sense for places like hospitals, so that the employees there can do a better job of finding time between patients. And, getting any help at all is something that no one should pass up. Panasonic has just introduced their brand new robotic hair washing unit, as well as the electric care assistance bed. Both pieces of tech should help those in the "helping industry" do their job easier.
The hair washing robot was specifically created for the workers at hospitals and other health care facilities. Over the years, it's become more obvious that nurses and doctors are stretched too thin too often, and the hair washing robot is here to help that. Utilizing a "hand" with 16 fingers to gently massage and clean a person's scalp, the machine also incorporates two separate arms that take 3D scans of the person's head, so that the robot knows just how much pressure to apply, and where to clean, based on each person's individual head size. Each arm is equipped with three separate motors, each of which control the amount of pressure, the massage motions, and swing. There are power detection sensors to double-check everything in real-time. And, to save time, the designers have made sure that the robot can remember skulls.
Panasonic's Electric Care Assistance Bed, the Electricbed, managed to wrangle in plenty of praise when it was shown off. The bed was created under the flag of a special project, called New Energy and Industrial Technology Development Organization (NEDO), which is meant to incorporate robots and safety technologies into every day life. This new bed from Panasonic can actually be separated into two parts, and the company managed to simplify the whole design. Removing unnecessary motors and fixtures, while modifying the overall components. The idea is to reduce the risk of moving someone from the wheelchair, to the bed. There are voice warnings and guidance systems, as well as LED indicators, that tell the worker when the bed is able to be separated from the chair.
[via Akihabara News]