Panasonic Digital Wall takes on Microsoft: no multitouch but bigger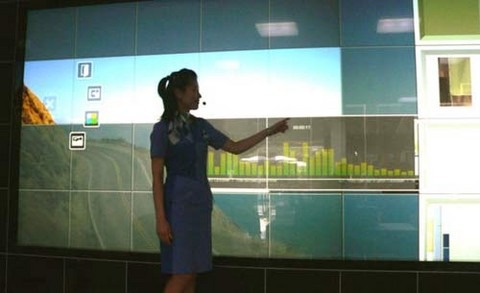 Microsoft Research got some hack-kudos earlier on in the year when they demonstrated their low-cost TouchWall, a potentially far-cheaper (and larger, and vertical) version of their Surface multitouch table.  Now Panasonic are here to steal their thunder, with their own imaginatively-titled "Digital Wall".
Right now there's an obvious flaw in Panasonic's version: it doesn't support multitouch, so only one person can be using it at any one time.  Presumably costs would be similar to those of Microsoft's TouchWall, which itself was never going to be a bank-breaker – total hardware cost was estimated by Microsoft at a few hundred dollars.
There's no word from Panasonic as to whether multitouch is coming, or even if this is simply a proof-of-concept or a product intended for later release.  I've got a big empty wall in my apartment hoping for the latter.  Demo video of the screen in action at Digital World Tokyo.
[via GottaBeMobile]