Panasonic 4K Tablet Teased As World's Thinnest And Lightest With 20-Inch Panel

In the days before the official start of the Berlin-based technology conference known as IFA 2013, Panasonic is aiming to stir up some excitement with word of a 20-inch 4K tablet. This device does not seem to be the sort of device that Panasonic will be releasing any time soon, acting as part of a series of presentations titled "A Better Life, A Better World", showing off what the company is capable of now in products designed for tomorrow. This device will be one part of a series of product categories Panasonic will be aiming to demonstrate their power in – Digital AVC, Appliances, and Enterprise Solutions also included.
This series of presentations will also include a Concept Stage where Panasonic will demonstrate "Better Living Tomorrow with the Cloud". The Digital AVC section of this Panasonic showing will show off the next-generation abilities of the recently announced Lumix GX7 mirrorless interchangeable lens camera – specifically in how it's able to work collaboratively with tablets and smartphones. Also on tap will be a new set of details on Panasonic VIERA Smart TV devices and software.

The Panasonic 4K tablet – what we must assume at this time to be a concept, for lack of a solid title – will deliver a 4K OLED display at 20-inches. If Panasonic means 4K resolution the same way it's generally understood by the television industry, this means that over that 20-inches of display, we'll see 3840 × 2160 pixels, or a total of 220PPI (pixels per inch). We must also assume that this tablet will either be running Android (as past Panasonic tablets have run) or will just be demonstrated with standard input demonstration software not meant for final consumption.
On the other hand, it could be that this device is simply the same Panasonic 20-inch 4K Windows 8 Tablet we saw all the way back in January. This device was massive back then – and certainly sharp enough to impress – but seeing it again with the same software, look, and lack of consumer release notes would not be quite as exciting as it was the first time around.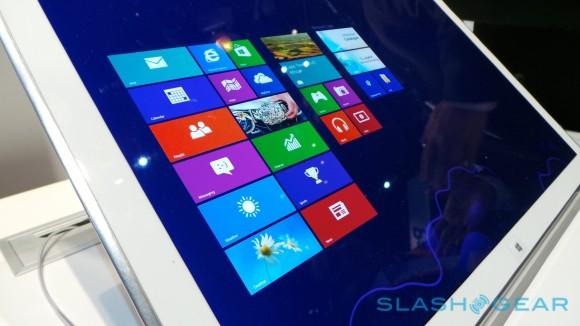 This device will shown for the duration of the event series in Berlin, so expect a closer look at it by the time the week is through. SlashGear is live in effect in Berlin this week and will be hitting up all your most-wanted must-see devices from beginning to end – stick with us through our IFA 2013 tag portal and don't miss a beat!
VIA: G for Games