Panasonic 3D FHD Blu-ray Labs unwraps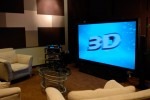 The increasing popular 3D HD Live sports are all over the news these days, we've seen the technology gaining positive reviews since its first public debut on BCS College championship game, and now to be featured in the upcoming All star valentine weekend [ check out our family package tickets giveaway, estimated value at $80 !!]. The contents and availability, however, are limited to selected theaters, and frankly not easy to find if you live outside of much popular cities; but similar technology will soon coming to your living home with Panasonic unveiled its 3D Full HD Blu-ray technology labs.
Looking back, Panasonic has been busy standardizing the technology and we know it's coming at consumer level with a Blu-ray hardware and 3D content in a Plasma system. Latest announcement will include an additional 3D-ready digital cinema projector.
Inside the new facility at California, Panasonic will work directly with Hollywood studios to develop 3D version of Blu-ray contents (3D FHD) and hardware to support those titles. The facility is now opened for business and already have a 380-inch display screen installed to evaluate picture quality.