Palmer Luckey, Oculus co-founder, is leaving the company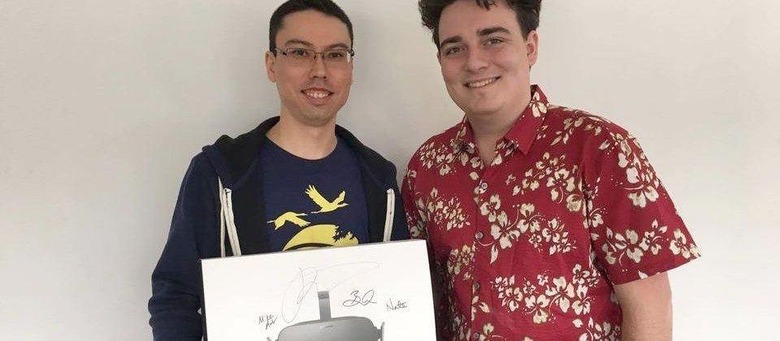 Although it now shares the limelight with rival HTC Vive, Oculus will most likely be forever remembered as the startup that started this new virtual reality wave. Now owned, by Facebook, the company has been involved in a few controversies lately, and most of them can perhaps be attributed to its co-founder, Palmer Luckey. The public face of the Oculus Rift, however, might be changing, as Facebook confirms that this will be Luckey's last week at Facebook, without exactly saying why.
Late last year, Luckey got into the hot seat when it was revealed that he had ties to a political group that supported the now US President, Donald Trump. Although it wasn't really uncommon to take sides in the political debate, most of Silicon Valley and the tech industry at large have taken a stance against the rather outspoken businessman turned politician. Luckey's previously unpublicized endorsement was practically seen by the tech community as tantamount to a betrayal.
Having weathered that storm, however, Luckey and Oculus faced a new controversy, this time a legal one. Game publisher Bethesda Softworks sued Oculus, and therefore Facebook, over supposed sharing of trade secrets by John Carmack, the celebrated game developer who once worked for Bethesda (after it acquired Carmack's id Software) and then moved on to Oculus. Facebook lost that lawsuit and is still in the process of appealing and, most importantly, trying to fight off Bethesda's injunction to have certain VR games and content banned from distribution.
Whether or not those two incidents have anything to do with Luckey's departure from the company is anyone's guess. Facebook isn't saying anything and Luckey has been rather silent as well. Neither party has even talked about Luckey's future adventures, which is on course for high-profile departures such as this. There will undoubtedly be some murmuring in the VR community that will see these big managerial changes at Oculus to be signs of a total Facebook takeover that could very well also change Oculus' image for good, or for bad.
VIA: UploadVR