Palm webOS 1.2.0 update arrives for Pre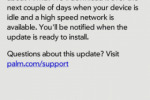 Palm have finally pushed out their latest update for the Palm Pre, webOS 1.2.0, a 79MB over-the-air firmware install that adds support for paid apps, Amazon MP3 downloads while on a mobile network (rather than WiFi) and cut/copy/paste support of text in the web browser.  There's also a new gesture – swiping down from the top of the screen toward the bottom – which opens the application/connection menu, together with music playback controls on the lock screen.
However what hasn't changed is iTunes compatibility, with the Pre still unable to sync with Apple's media software after the Cupertino company changed their settings to block the Palm smartphone.  Recently Palm was scolded by the USB-IF for their attempts to circumnavigate Apple's settings by using an iPod USB identification number.
The full list of changes is available to peruse at My Pre, but includes other such tidbits as browser bookmarks being backed up in your Palm Profile, more intelligent calendar and contacts handling, search in email (for subject, from, to and CC fields, though not main body text) and the ability to download files from webpages.  There's also support for accepting self-signed security certificates, which should hopefully fix some users' push-email issues.
[via My Pre]