Palm Pre Plus Review for Verizon Wireless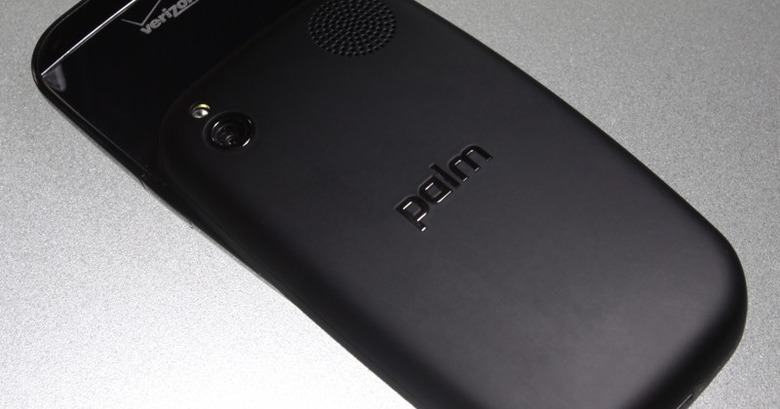 Palm had plenty to live up to at CES 2010, having done a reasonable job of rejuvenating their business the previous year with the surprise introduction of the Palm Pre. This time around they rolled out a more incremental update, the Palm Pre Plus and Palm Pixi Plus, both headed to Verizon Wireless' network. We've had the former on the SlashGear test bench; check out our review after the cut.
Palm's changes to the Pre in creating the Pre Plus include doubling the onboard storage to 16GB and RAM, removing the navigation button in the center of the gesture area below the display, and modifying the keyboard and slider in both tactile feel and layout. In short, it answers some criticisms – even at launch, 8GB seemed low for a smartphone – but leaves others unaddressed; there's still no memory card slot, for instance.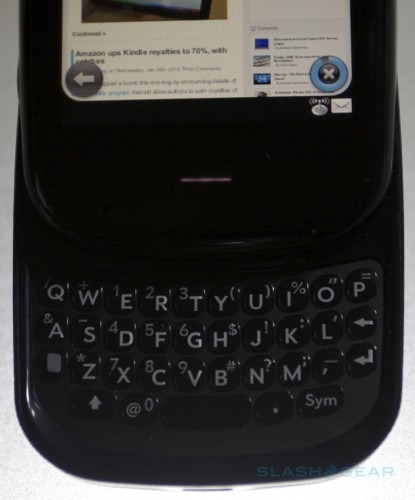 Thanks to the additional onboard RAM, 3D games like Need For Speed or SIMS 3 run amazingly smooth!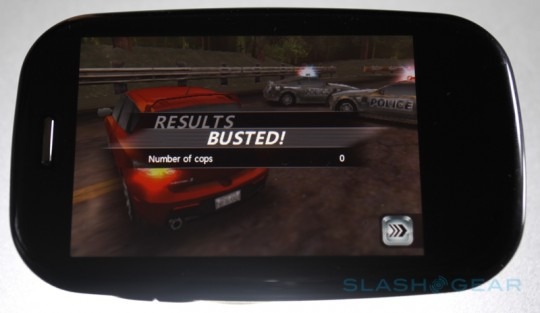 Verizon buyers will also get the Touchstone back cover – which allows them to use the Pre Plus with the inductive Touchstone charger – in the box, rather than as a separate accessory, though they'll still need to buy the charger itself. Finally Palm added a mobile hotspot feature, exclusive to Verizon users, which turns the Pre Plus into a MiFi of sorts, sharing the EVDO Rev.A connection with up to five WiFi clients. Once customers have added the 3G Mobile Hotspot feature to their voice and data plan they will go to the Palm App Catalog and download the app for free directly as you would any other app.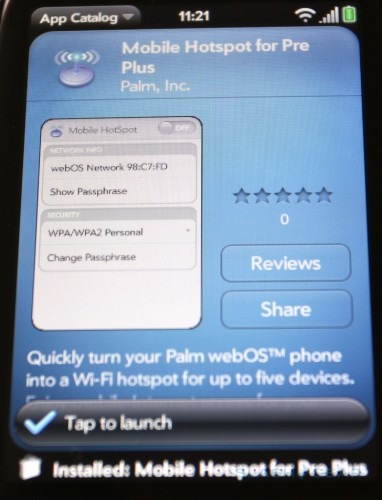 Everything else is unchanged, and for a general grounding in the Pre we'd suggest reading our original review from back in 2009. webOS remains one of the more aesthetically pleasing platforms, together with being highly usable; treating open applications as "cards" that can be shuffled and "flicked" off-screen to close still beats out any rival multitasking OS for simplicity, and the discrete notification bar that percolates up at the bottom of the display whenever new messages, emails or other alerts come in strikes an excellent balance other platforms still struggle to achieve.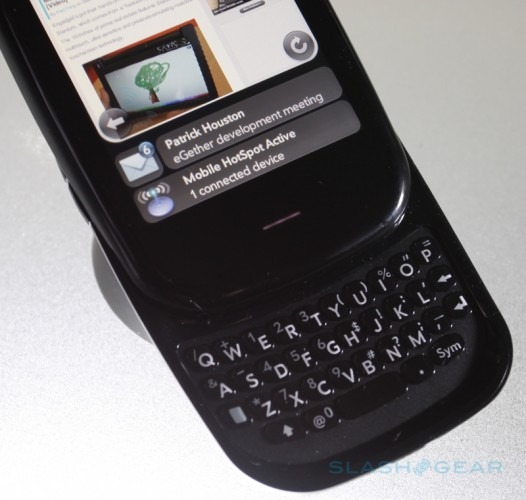 Of course, there have been several webOS updates since the Pre first launched, and Palm is currently up to 1.3.5.1. Changes have included improved enterprise support, more flexibility with IM accounts, and the introduction of paid applications to the App Catalog. Despite Palm's best efforts, however, their download store still lags behind that of iPhone and Android, at least in terms of sheer app numbers. We're hoping the introduction of webOS to another US carrier will give developers a shot in the arm to support the platform. With twice the RAM, though, the Pre Plus whips through applications with far more vigor, leaving behind the occasional pauses and sluggishness that sometimes marred the original. Given that the smartphone has the same processor as the iPhone 3GS, it comes as little surprise that Palm is now looking to better court game developers; the Pre Plus is a far more capable platform for them than in its previous incarnation.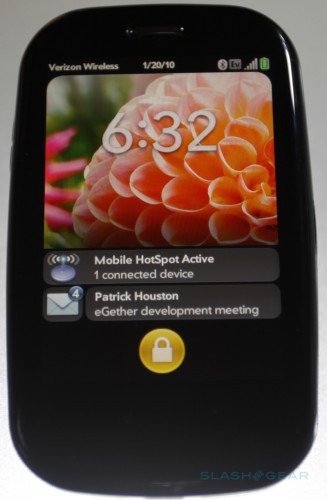 Navigating the Pre Plus is little different from the original Pre, even without the hardware center button. Instead there's a small horizontal line, as debuted on the Pixi, tapping which summons up the usual card view. While we wouldn't say it's necessarily any easier to handle than with a physical control, it's one less thing that could be broken. As before, the gesture area responds to swipes for moving back through web pages and the like, as well as dragging up the quick-launch bar.
More noticeable is changes Palm have made to the keyboard section. The sliding mechanism on the original Pre always felt slightly precarious, with more side-to-side play than felt appropriate for a flagship device, and happily Palm have tightened the action up on the Pre Plus. It now opens slickly and firmly, complete with a reassuring click, and exposing a reworked keyboard. Minor modifications have been made to the layout, but more impressive is the increased key-feel. The Palm Pixi's keyboard always felt the better of the first two webOS devices, but the Pre Plus is a great step in the right direction; the squishy feeling that could slow down typing has been replaced with a greater perkiness, and that pays dividends on typing speed. No, it's not the biggest hardware QWERTY out there, but it's a far more usable version.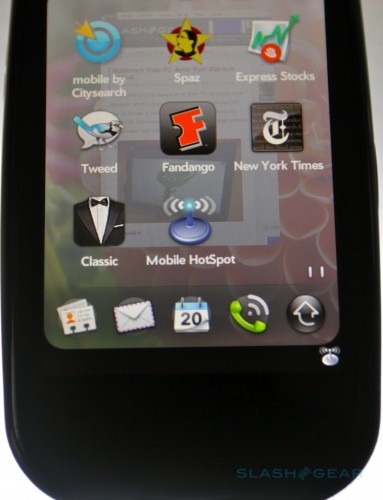 The new Palm mobile hotspot app will be available in the App Catalog though only functional for Verizon Wireless customers; you'll also need a suitable 3G Mobile Hotspot add-on to your data plan. That costs a further $40 (for 5GB; 5 cents per MB overage) on top of the $29.99 regular "unlimited" data plan for a total of $69.99; that's $10 more per month than a Verizon MiFi contract alone. In use it works just as you'd expect a MiFi to: once you set up an initial SSID and password, opening the app shares the 3G EVDO Rev.A connection over WiFi. A list of all the connected clients is shown on the phone, and up to five are supported at any one time; since the Pre Plus supports multitasking you can continue to use other apps while mobile hotspot is still running.
Palm expect the Pre Plus to last a little longer than the original Pre, too, quoting up to 5.5hrs of talk time or 350hrs standby (versus 5hrs/300hrs for its predecessor). In practice the Pre Plus still lacks stamina, especially if you make reasonable use of WiFi 3G sharing. Given how well webOS handles push email and tight integration with cloud calendars and other servers, we remain loath to step back to less frequent or even manual updates. It's a little better than when we first tested the Pre, but definitely expect to recharge the Pre Plus every night. Palm really should consider bundling the Touchstone in with the Pre Plus; dropping the smartphone onto the charger for a quick top-up is a far more natural (i.e. far more likely to be done) movement than prising open the microUSB cover and plugging in the regular AC adapter.

ad for http://PreAccessories.com
As of sometime in February 2010, Palm will push out webOS 1.4 which will bring with it video recording and Flash 10 beta support. That won't be solely for Pre Plus users, however; existing Pre owners will get the update too. As well as basic recording, there'll also be some on-device editing (from what we've seen at CES 2010, this consists of trimming the beginning and end points of each clip) and the ability to upload footage to YouTube and Facebook or send it via email or MMS just as can be done with photos currently. Considering there's been no change in camera hardware for the Pre Plus – it remains a fixed-focus shooter, with average quality but speedy shutter response – there's no particularly great reason to recommend the Plus over the basic Pre for those prioritizing imagery.
Is the Verizon Pre Plus a must-have upgrade? For existing Pre owners, probably not, thanks to incremental rather than revolutionary changes. Those who've considered a Pre – or webOS – but been put off by the keyboard feel or the limited storage, however, should definitely take a look at the Pre Plus. Our typing felt faster and we had fewer concerns about side loading reasonable catalogs of music onto the smartphone. Lastly, webOS is faster and more responsive thanks to the extra RAM doesn't hurt either.
Verizon have priced the Palm Pre Plus at $149.99 (assuming a two-year contract and after a $100 mail-in rebate; the Pixi Plus, incidentally, will be $99.99 with the same conditions). Plans start from $39.99 per month (for 450 anytime minutes) and top out at $69.99 for unlimited Nationwide Talk or $89.99 for unlimited Nationwide Talk & Text. Sprint will likely further discount the first-gen Pre to compete, but given the initial purchase price of any handset is dramatically outweighed by the longer-term cost of your voice/data plan, the sensible buyer stumps up a little more on day one for a happier experience overall. The Pre Plus breaks no new ground in smartphones, but Verizon availability and an altogether tightened package keeps it reasonably compelling among the smartphone rank and file.
Oh, one more thing...VZW has just informed us that they will offer a buy one get one free offer through February 14!
"Buy a Palm Pre Plus or a Palm Pixi Plus and get a Palm Pixi Plus free after a mail-in rebate through Feb. 14."