Palm Pre lands on Bell Mobility in Canada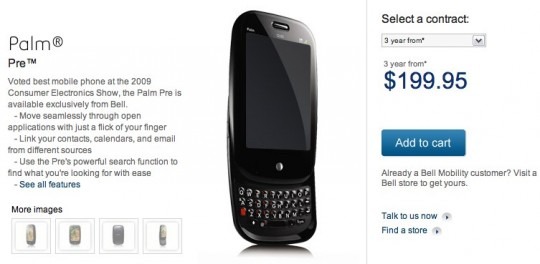 Palm and Bell Mobility have been teasing our Canadian cousins for weeks now, but the webOS smartphone has finally arrived.  The Bell Palm Pre is priced at CA$199.95 with a new three-year contract, and delivers the same EVDO Rev.A connectivity, slide-out QWERTY keyboard and capacitive touchscreen as the Sprint US model.
Both online and in-store orders are possible, and Bell will be showcasing the Pre at the Eaton Centre in Toronto through September 5th, complete with running daily giveaways.  Meanwhile voice/message/data plans start from CA$45 per month (with a 500MB allowance), though you'll need to step up to at least CA$60 per month if you want unlimited data.
The launch coincides with the addition of several new webOS applications to the Palm App Catalog, including the Yelp restaurant guide, a language update for Twitter app Tweed, and a Canadian news app.  There are also some new games, including Tetris Mania and Yahtzee.
[via Official Palm Blog]