Palm Pre 2 Images Break Cover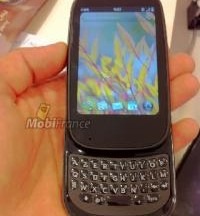 Yesterday, the French wireless carrier SFR managed to jump the gun a bit, and revealed some of the specifications for what the next Pre would have under the hood. But, while the image they had along with early announcement was good enough to get an idea for what to expect, thanks to MobiFrance, we now have the first ever images of the Palm Pre 2, in hand, and turned on.
As you can tell from the image, there's not a lot of differentiation from this new version, and the model that people either loved and hated the first time around. It's still packing a portrait slider, with the full QWERTY keyboard. The front of the device does seem to be flat this time around, though, and a more refined ridge seems to be tracing its edges. The device is running webOS 2.0, and it looks like the display itself is packing a resolution of 320 x 480.
PreCentral managed to get confirmed that the device is packing a 1GHz processor under the hood, and that there is indeed 512MB of RAM available on the device. And, as for a release date, it looks like MobiFrance believes the refresh for the current iteration of the Pre device (and even the Pixi) could happen as early as November. Nothing confirmed quite yet, but at least we have images of what's coming.
[via PreCentral]