Palm Mojo SDK for webOS publicly released; new apps incoming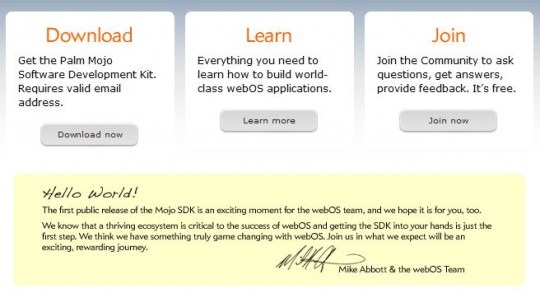 Palm have announced that their Mojo SDK for the webOS platform is available for general download, opening the floodgates for developers to code for the Palm Pre.  The company has confirmed that they will be accepting new applications for the on-device App Market from the fall, when the new submissions process opens.
Palm have also announced that there are new applications soon to arrive in the App Catalog, presumably the fruits of the "early access program" in which thousands of developers have been registered since April.  While the company is yet to confirm when exactly these new titles will be released, we imagine that Apple's recent announcement that they have surpassed the 1.5bn downloads mark will encourage Palm to begin distribution sooner rather than later.
The new developer portal can be found at http://developer.palm.com/, where it's possible to download the Mojo SDK for Windows, Mac and Linux.  Palm have also made available the accompanying support literature and UI guide, together with a demo app and guidance on using the SDK. 
[via MyPre]