Palm Eos Might Be Delayed Until 2010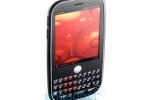 Since the release of the Palm Pre, analysts have been all over it. For the better and the worse, as it turns out no one can figure out whether or not the Pre is making any kind of headway in the market, if its being returned at alarming rates or not, or if people are even happy with their devices. Either way, the Pre isn't the only device coming down the pipeline wielding the webOS, but according to those pesky analysts, it's looking like the Eos might not be showing itself until 2010.
There had been rumors that the Palm Eos (codenamed Pixie) would be arriving some time by the holiday season, this year, but it's now looking like the device won't be hitting the shelves of AT&T until next year. Ilya Grozovsky, an analyst from Morgan Joseph stated, "We think that the Pixie, which we believe is being geared for AT&T and has a different form factor than the Pre, is not likely to be available for the 2009 holiday season," in a research note to clients. He goes onto note that Palm will need to press the Eos very hard, if they want to have any profitabillity against Apple's iPhone, particularly the $99 model.
It's worth noting that many believe the Palm Eos will be available starting at $99, but as carriers here in the States love subsidizing, that may mean it's $99 after a mail-in rebate, which would instantly put it above the iPhone 3G in price, and probably persuade future customers away. Either way, webOS has to get on some more devices, if Palm want the robust Operating System to start getting into the hands of more customers. Either way, we can't wait to see it, whenever it happens.
[via All Things Digital]