Palm Bluetooth Keyboard Leaks Out, Accessory to Topaz Tablet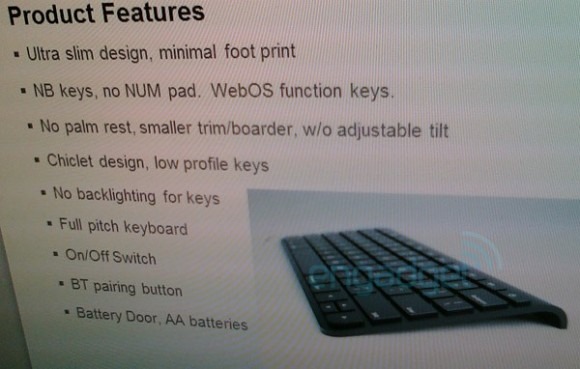 While those interested in seeing a webOS-based tablet are going to have to wait a bit longer, at least you get to look at what some believe is one of the accessories for the upcoming, but still unofficial device. Engadget was just sent a picture of what looks to be, and is detailed as, a Bluetooth equipped keyboard. It was sent in from a trusted source, and its detailed as having not only keys for webOS-specific functions, but also a Windows key.
That last bit probably means that Palm will sell the Bluetooth keyboard as an all-around accessory, but one that makes the most sense as an add-on to their tablet device. As for that rumored tablet, it's now being rumored to be codenamed "Topaz." As for the keyboard itself, it won't have any backlighting for the keys, but they are chiclet in design. There's a battery door, and an On/Off switch, which isn't surprising. There also won't be a number pad.
The tablet, or Topaz for now, is rumored to not have any hardware keys on the front of the device. It's also supposed to share similar design cues as the keyboard itself. There's no release date for the keyboard, or the tablet, but we've hard in the past that it's due in the first half of 2011 some time, and the source confirme this.
And finally, there's a teen-phone coming, apparently. It's codenamed "Castle" at the moment, and it's rumored to be a successor to the original Palm Pixi. It's said to look like a Pre, but without the keyboard. With 2011 right around the corner, it's likely that Palm/HP are getting ready to release a good amount of new devices. Let's hope that the Topaz makes an early appearance.
[via Engadget]