Pagaré smartstrap gives Pebble Time wireless payment powers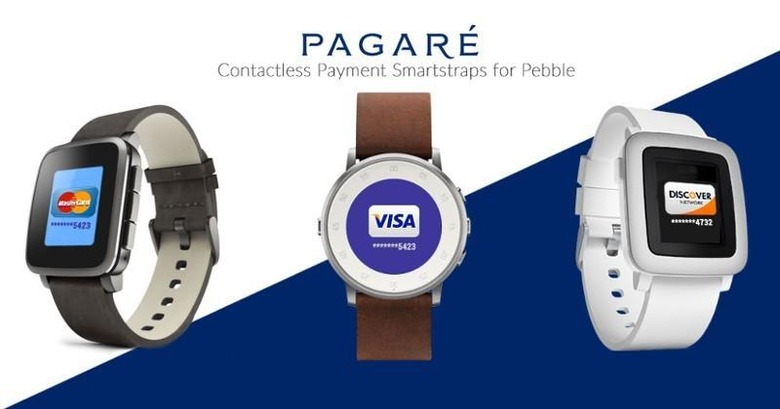 Last March, Pebble revealed its smartstrap idea and platform that would allow developers and accessory makers to add functionality to the Pebble smartwatches indirectly through smartstraps. While the idea definitely has benefits, few have jumped on the opportunity to take Pebble beyond to new heights. That long wait might be over, at least to some extent. Fit Pay and ConnectedDevice, two companies heavily invested in the wearable market, are announcing Pagaré, a smartstrap that would usher the Pebble Time into the young but fast growing world of contactless payments.
Wireless payment systems are on the rise, thanks to the convergence of many big brands together pushing the industry forward, though in many disparate ways. Some analysts predict that the industry would reach half a trillion dollars in 5 years. Aside from smartphones, smartwatches and wearables are the prime devices for contactless payments. Indeed, the Apple Watch and Samsung Gear S2 smartwatches do tout that ability, with Android Wear hindered by its lack of NFC support.
The Pebble OS also lacks such support but is actually easier to work around. Pebble announced its smartstrap platform in order to keep the core Pebble functionality small and tight while not exactly closing the doors to interesting functionality. Those, however, could come from third party accessory makers, which is what Fit Pay and ConnectedDevice are trying to do.
Details on Pagaré are still quite slim but, like majority of contactless payment systems, it requires NFC to function. Although still not that numerous, there are an estimated 9 million PoS now equipped with that technology, making it easier to adopt. Of course, those will have to also support Fit Pay's Trusted Payment Manager platform.
Pagaré, however, isn't a finished, purchasable product. January next year, the two partners will take to Kickstarter to gauge interest and support for the smartstrap, so we'll have to see whether it will really fly. The smartstrap is also limited to the Pebble Time, and, based on the images, Pebble Time Round, generation, which are the only ones to support the smartstrap platform.
SOURCE: Fit Pay