Packard Bell dot VR46 netbook gets Valentino Rossi stylings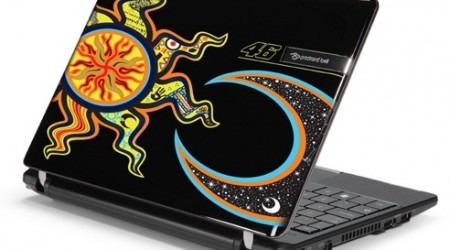 We'll admit to being a little confused as to the appeal of super-branded laptops like Acer's Ferrari series – it smacks a little of wearing a Ferrari jacket while you're driving your Accord – but where there's a market there'll be products to sate it.  Enter Packard Bell's Valentino Rossi netbook, the Packard Bell dot Netbook VR46, likely to exaggerate the difference between Rossi's high-powered motorbike and an underpowered CULV netbook even more.
Hardware specs for the special edition aren't confirmed, but we're assuming it has the same sort of components as the dot m/u netbook.  That packs an 11.6-inch display, 1.3GHz Celeron M processor, 3GB of RAM and a 250GB hard-drive, along with GMA 4500MHD graphics, WiFi b/g/n and gigabit ethernet.
Also unknown is pricing and specific availability, but we're guessing it'll come in a little more expensive than the roughly £399 ($650) dot m/u and arrive sometime in the new year.  Expect the usual bevy of wallpapers by artist Aldo Druids.
[via Netbook Italia]