Oyster launches monthly ebook subscription service with all-you-can-read access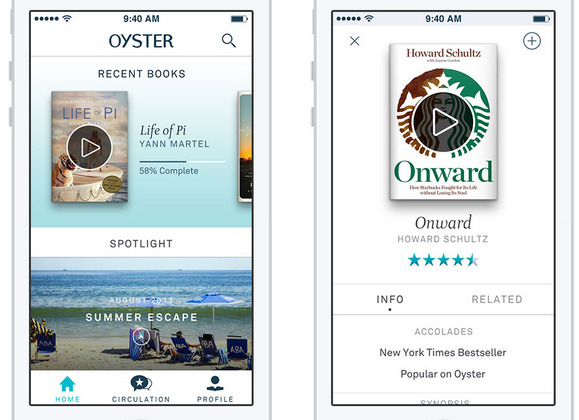 Using a subscription model that has presently been found almost exclusively in video-based services, Oyster has announced the launch of a (currently invite-only) monthly ebook subscription service, allowing subscribers to have all-you-can-read access to its library of digital books. At the moment, Oyster says it offers about 100,000 titles and it aims to provide an all-in-one "reading experience."
This experience is in part due to Oyster developing the technology its service uses, with all the browsing, downloading, reading, and sharing experiences taking place within the company's software. Books, for example, are stored and read within Oyster's software rather than on a separate external reading app. This allows it to also control the typography quality readers get.
Oyster presently has five themes for users, and offers social aspects to the service as well. Users can gather a library and create a profile, and can also keep tabs on what their friends are reading, as well as an option to follow a user's profile in much the same way one follows a Twitter account. Genres span the gamut from fiction to non-fiction, with the company saying that it currently offers about 100,000 titles, and that more are being added.
The cost of the service comes in at $9.95 per month, which is about the same as one pays for a monthly Netflix subscription, for example. As mentioned, right now the content is only being offered as an invite-only system, with the curious being able to sign up for access on the company's website. Perhaps the biggest downside for many will be the iPhone-only support at the moment — thus far, we haven't heard whether Oyster will also provide an Android app.
SOURCE: Oyster Books Blog