OWC Aura SSD Upgrade For Mid-2013 And Later Macs Lands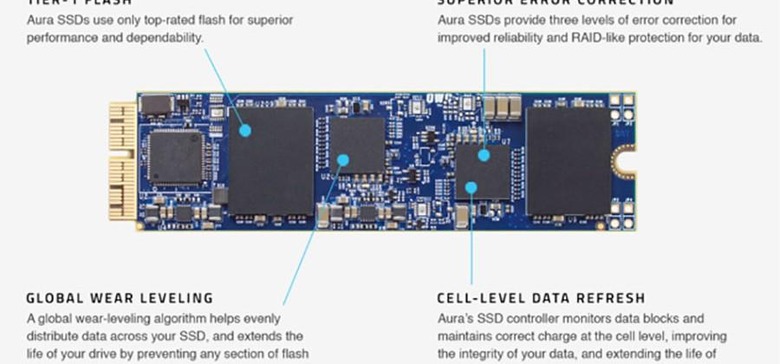 Owners of mid-2013 MacBooks who are needing to boost their storage space can now get a new upgrade flash drive from OWC called the Aura SSD for Mid 2013 and Later Mac Laptops. The SSD upgrade is offered in 480GB and 1TB capacities and are the only PCIe-based flash storage device upgrades for the MacBook Pro with Retina display and newer MacBook Air devices.
These upgraded storage solutions have up to 8x the storage capacity of factory Apple SSDs. OWC uses tier 1 flash with 7% over-provisioning and the upgrade kits include all tools needed for installation of the new drive and removal of the Apple factory storage. The upgrade kits also include an OWC Envoy Pro drive enclosure to allow users to use the factory-installed flash drive as an external hard drive.
The drive is covered with a 3-year OWC SSD warranty and videos are offered to make the upgrade easier to complete. The Aura drives are made specifically for Mac computers and need no software hacks or TRIM enablers to function inside the MacBook. The external enclosure allows users to transfer all their data from the old Mac drive to the new drive with USB speeds up to 355 MB/s.
Aura flash storage has three level error correction and embedded processors for cell-level data refresh and global wear leveling to make the drive last longer. The complete upgrade kit with the Envoy Pro enclosure sells for $449.99 for the 480GB drive and $719.99 for the 1TB version. If you want the SSD, only it will cost $379.99 for 480GB and $499.99 for 1TB. The drives will all ship in late March.
SOURCE: OWC Digital