OvRcharge wireless charger makes your phone levitate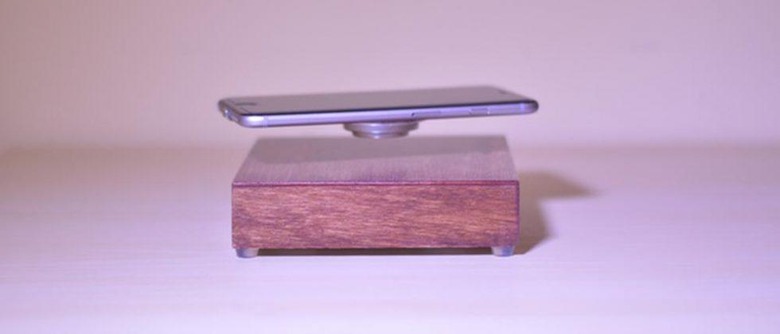 We've seen levitating products with increasing frequency, one of the coolest ones being that Mars levitating speaker. Equally fascinating is a newly surfaced wireless phone charger that causes your smartphone to levitate above the charging base: OvRcharge. The device is being funded on the crowdfunding website Kickstarter, where the company behind it, AR Designs, details the voodoo that makes this seemingly magical device work.
The system involves two main components — the wood charging base with an electricity receiver and a special phone case that features an induction receiver and a magnet. The phone case is very small thin and not terribly noticeable when the phone is charging; when the battery reaches capacity, the charging will stop but the phone will continue to levitate and spin slowly.
Because of the variety of phone sizes and shapes, not all wireless smartphones will be compatible with the case. AR Designs says it will offer cases for the most popular smartphones (the newest iPhone, for example), but for everyone else there will be a third-party attachment that can be attached to an existing phone case. In that sense the OvRcharge supports basically any phone that has wireless charging functionality, but it may not appear as sleek if you're using your own phone case.
The OvRcharge can support devices up to 600 grams (in terms of levitation), so it will work with many tablets in addition to smartphones. The base measures 140mm x 33mm x 140mm for the regular model; there is also an Ultra model measuring 170mm x 35mm x 170mm with a 700mAh output instead of 500mAh.
AR Designs plans to offer the charger in dark, walnut, and cherry wood varieties initially, and teases that more options will be available in the future. Interested backers currently have a $209 CAD backing option for an early bird unit; these are estimated to ship to backers this upcoming December, with shipping being available globally.
SOURCE: Kickstarter