Overwatch's Winter Wonderland holiday event has begun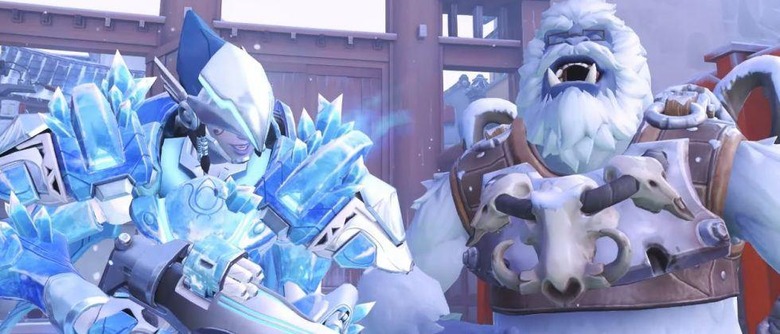 Overwatch's Winter Wonderland event has arrived at last. Blizzard teased the event earlier this much without giving anything away, but now we're getting a slew of details with the event is going live. Winter Wonderland is the third seasonal event for Overwatch and runs from today, December 13, to January 2.
Like the seasonal events that came before it, Winter Wonderland offers a whole bunch of new cosmetic items for players to unlock. These include new victory poses, emotes, highlight intros, and most importantly: skins. The skins for Winter Wonderland are looking pretty solid all around, with standouts including an Abominable Snowman Winston, Nutcracker Zenyatta, and Torbjorn as the one and only Santa Claus (because of course Torbjorn would be Santa).
Winter Wonderland isn't only adding new cosmetic items to the game, however. As it turns out, two maps have been given a Winter Wonderland overhaul: Hanamura and King's Row. These new festive designs will last for the duration of the event, so take in the snow-covered sights while you can.
READ MORE: The Best Games of 2016: OverwatchThere's also a new 6v6 brawl to participate in. Everyone will be playing Mei in this brawl, and instead of ice spikes, her blaster now shoots snowballs. Blizzard says that one hit is all you need to take out an opponent, but if you run out of snowballs, you'll need to track down a pile of snow to reload and join the fight once more.
Have a look at the trailer posted above to see some of the skins that are available during the event, as well the overhauled maps. All in all, it sounds like a fun event that offers plenty of content to unlock, but considering you've only got three weeks, you might want to start grinding out some loot boxes sooner rather than later. If you need me, I'll be bouncing around Overwatch as the Abominable Snowman.