Overwatch's Mercy gets a new skin for charity
We're used to seeing Overwatch get most of its new skins through the variety of in-game events Blizzard rolls out each year, but with its newest skin, Blizzard is doing things a little differently. The company has announced a new skin for Mercy that isn't found in loot boxes – instead, the only way to get it is to outright purchase it. That's a bit strange for Blizzard, which loves its loot boxes, but then again, this isn't exactly your run-of-the-mill skin.
Blizzard has released this Pink Mercy skin to raise money for charity. Specifically, Blizzard is raising money for the Breast Cancer Research Foundation, and will donate 100% of the proceeds from the sale of this skin to the organization. As outlined over on the Overwatch blog, the skin costs $15 and Blizzard is committing a minimum donation of $250,000. The final donation amount, which will take sales of this skin into account, will be announced after this event ends later this month.
Buying the new Mercy skin isn't the only way to support the BCRF. The company has also launched a new Pink Mercy shirt over on the Blizzard Gear Store. The shirt was designed by VICKSIGH and both the men's and women's varieties will cost $30, with orders delivered by the end of Q3 2018 (so, essentially, around the end of autumn).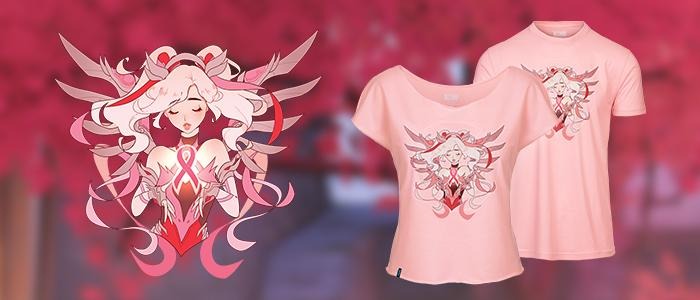 Finally, Blizzard has teamed up with a rather wide range of Twitch personalities for a number of charity streams. Watching these streams will unlock a selection of in-game sprays and icons themed around Pink Mercy, so long as you have your Twitch account linked to your Blizzard account. The full charity stream schedule can be found in the blog post linked above.
This promotion runs until May 21, so if you want to pick up this skin, you'll need to do it before then. The skin can be purchased both in-game and online, regardless of the platform you're playing on.