Overwatch Lunar New Year event puts focus on Capture the Flag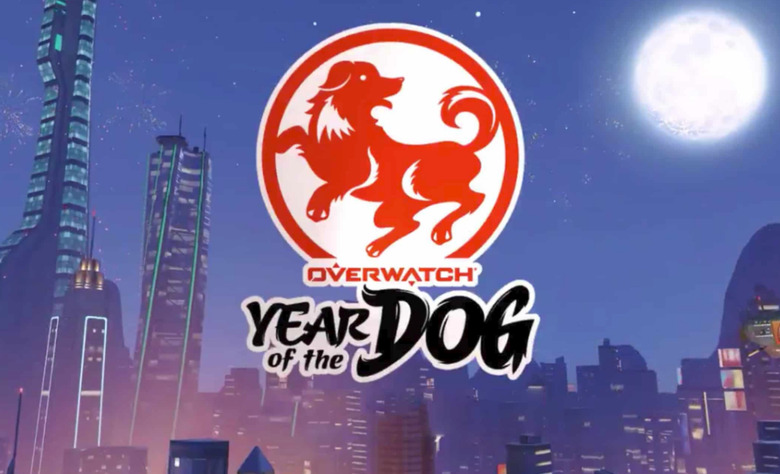 It's almost time for another Overwatch event, this one centering around the Lunar New Year. Of course, Overwatch veterans had reason to believe such an event was coming, as it was around this time last year that Blizzard celebrated the Year of the Rooster. This time around, we're celebrating the Year of the Dog, and with that celebration will come new cosmetics, including a batch of themed skins you can unlock through loot boxes.
Today, however, the focus isn't on those new skins, but rather what the Year of the Dog will offer in terms of game modes. Last year, Blizzard used the Lunar New Year event to introduce a Capture the Flag mode, and with this year's event, it will improve it. First and foremost, Overwatch Director Jeff Kaplan explains that we're getting a new Capture the Flag map set in Thailand in a developer update you see embedded below.
Not only are we getting a new map, but we'll also have a special four-week competitive season specifically for Capture the Flag. Beyond that, the entire Lunar New Year event will last four weeks instead of the regular three, giving you even more time to collect its seasonal loot. Blizzard is also making other, minor changes to the Capture the Flag formula, which are all detailed in Kaplan's video.
In other Blizzard news, yesterday also saw the the debut of a similar Lunar New Year event in Heroes of the Storm. Since Heroes transitioned to a new free-to-play model last year, the Lunar New Year event in HotS works much like the way it does in Overwatch, with seasonal loot boxes containing limited-time items and skins. You can see some of the new cosmetics and be brought up to speed on Heroes' new Lunar New Year-themed Brawl by checking out the trailer below.
While Heroes' Lunar New Year event is already live, the one for Overwatch won't be going launching until tomorrow. It's then that we'll find out about many of Overwatch's new and returning Lunar New Year skins, so stay tuned for that. Heroes of the Storm's Lunar New Year event runs from February 6 to March 5, while Overwatch's starts on February 8 with an end date that hasn't yet been announced.