Overwatch League broadcasts are coming to ESPN, Disney, and ABC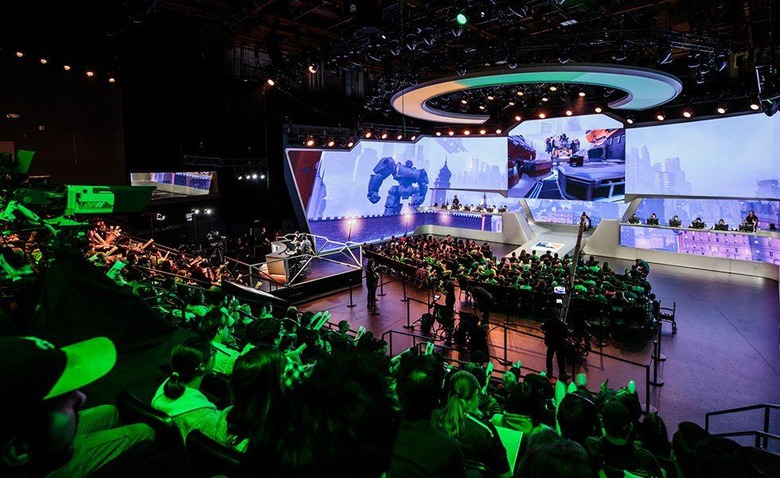 If you needed anymore evidence that Overwatch and its pro league are insanely popular, here it is. Disney and Blizzard have announced a new partnership that will see Overwatch League broadcasts come to cable networks like ESPN, ABC, and Disney XD. This partnership is getting going fast too, as the first broadcast is tonight.
Yes, beginning tonight, you'll be able to watch the Overwatch League playoffs on Disney XD and ESPN3. The multi-year deal will see the grand finals broadcast on Disney's various networks later this month, along with season 2 of the Overwatch League. As ESPN notes in a news article announcing the partnership, this new agreement won't cancel existing distribution arrangements, meaning that those of you who prefer to watch on other platforms like Twitch can continue doing so.
In recent years, ESPN has been making a pretty big push into covering eSports, and this new agreement with Blizzard is just the latest step in that initiative. Disney plans to offer its broadcasts to both digital and linear viewers, and it won't be limited to just showing games and recaps. ESPN says that the deal covers a "broad swath of digital rights," which could include highlight videos or "supplemental content catered toward fans who might not be as familiar with Overwatch."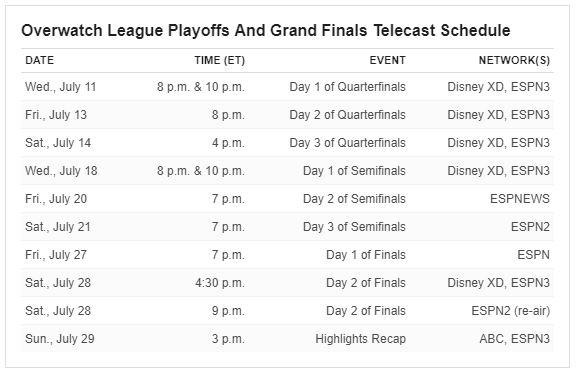 In other words, Disney might use this partnership as a way to educate ESPN's mainstream sports fans on just what Overwatch is and what pro competition is all about. As far as growing eSports is concerned, that could be a good move, and it's hard to imagine pro gaming fans objecting to introducing eSports to a wider audience.
You can see the full broadcast schedule for the rest of Overwatch League season 1 in the table above. What do you think of this plan to broadcast Overwatch League matches on mainstream networks? Head down to the comments section and let us know!