Over one million Opera Mini downloads already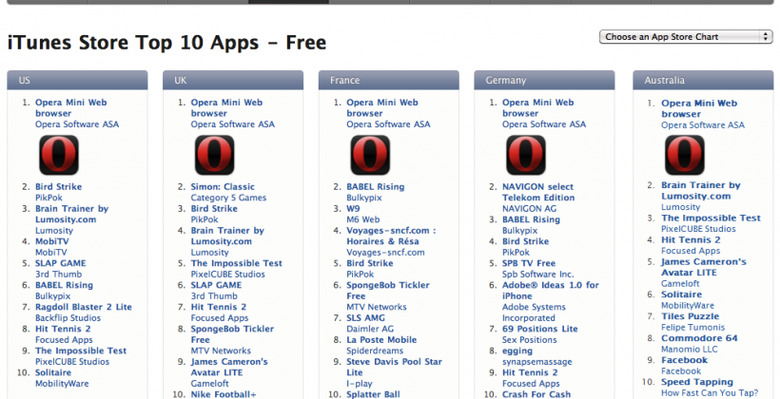 Apple approving Opera Mini for iPhone was perhaps the most surprising event of the week, and it comes as little surprise that owners of the smartphone have been downloading it in their droves.  After leaping to the number one download spot in the 22 featured Apple Stores on the company's site, Opera have just announced that the browser was downloaded more than one million times in its first day of availability in each market.
In fact, Opera reckon the browser has been downloaded to 1,024,380 Apple devices – likely including not only the iPhone but the iPod touch and iPad too – though of course there's no way of telling how many people continue to use it in preference to the native Safari browser.  A brief scan through the App Store reviews suggests that, while people appreciate the extra turn of speed Opera Mini delivers – thanks to the company's intermediary servers – there are ongoing issues with how some sites actually render.
Still, we'll always err on the side of having more options than having fewer, and we're hoping that Opera are busy working on not only refining their iPhone app but developing a native iPad version that takes advantage of the bigger device's 9.7-inch display.  Opera Mini is a free download from the App Store.
Press Release:
One million downloads

Opera Mini for iPhone #1 download in iTunes App Stores everywhere

Oslo, Norway – April 15, 2010 – Apple said "Yes", and iPhone users around the world said, "Yes, please". Opera Mini was downloaded more than one million times in its first day of availability in each market. Opera Mini is currently the number one iPhone app in the 22 featured Apple App Stores on their site, as of 8 a.m. CET today.

According to Apple's download count, Opera Mini has been added to 1,023,380 Apple devices. Opera Mini is the world's most popular browser that brings the Web to nearly any mobile phone. Opera submitted its browser to Apple on March 23, following the unveiling of Opera on iPhone during the Mobile World Congress, CTIA and SXSW. Initial previews of the browser garnered rave reviews, indicating that Opera Mini delivers up to six times the speed, especially on congested networks, and significant Web-page compression to keep roaming and pay-per-MB costs at a minimum.

"Today iPhone users have a choice, and, as the numbers show, they are eager to explore new and faster ways to surf the Web on the iPhone – especially during heavy Web traffic," said Lars Boilesen, CEO, Opera Software. "With any widely available and frequently downloaded Opera product, we are appreciative of all the feedback we are getting, as it helps us to continually improve our product and better meet the needs of our users."

About Opera Software ASA

Opera Software ASA has redefined Web browsing for PCs, mobile phones and other networked devices. Opera's cross-platform Web browser technology is renowned for its performance, standards compliance and small size, while giving users a faster, safer and more dynamic online experience. Opera Software is headquartered in Oslo, Norway, with offices around the world. The company is listed on the Oslo Stock Exchange under the ticker symbol OPERA. Learn more about Opera at http://www.opera.com/.