Over 12,000 Marvel comics come to Amazon's Kindle store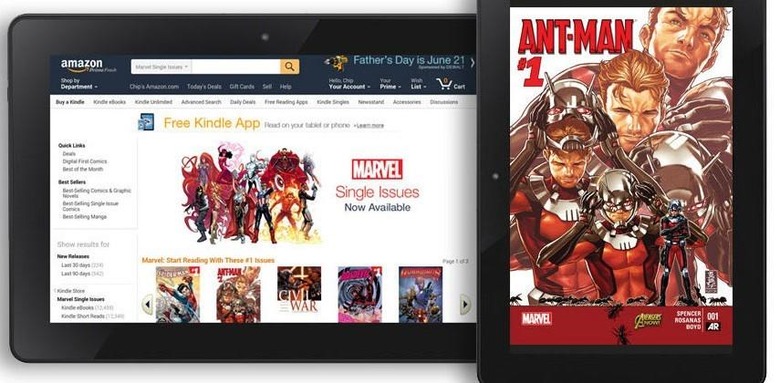 Marvel and Amazon have just announced a new deal that sees over 12,000 of the comic book publisher's back issues available on the Kindle store, starting today. Marvel's comics were previously available through the Comixology app, which Amazon purchased last year, and they will continue to be offered there, but Kindle owners can now buy straight from their own marketplace. Even better is that new Marvel issues will be available for Kindle on the same day they're available at stores and on Comixology.
Not much else is changing in the way Marvel will offer its single-issue comics; the Comixology app will remain available on iOS and Android, as well as the Marvel Comics-branded app. Similarly, Marvel Unlimited, the publisher's $9.99-a-month subscription service, will continue to offer unlimited access to the back catalog, but that doesn't include issues less than 6 months old.
This new arrangement is clearly beneficial for Kindle owners. If they're not Comixology users, the only way to get Marvel's offerings before was through other apps, but even that required the Kindle Fire tablet. Also good to know is the Kindle store availability applies worldwide.
The set up will also help Marvel continue to improve its grasp on the digital comics marketplace. Amazon has said that on iOS, Comixology has been the highest grossing book app, while on Android it remains the top grossing app in the comics category of the Google Play Store. Combine this with the fact that Marvel comics will now be promoted within the Kindle store, and it's easy to see why the publisher's entertainment empire is so successful.
SOURCE Marvel