Outlook users will soon be able to pay bills from their inbox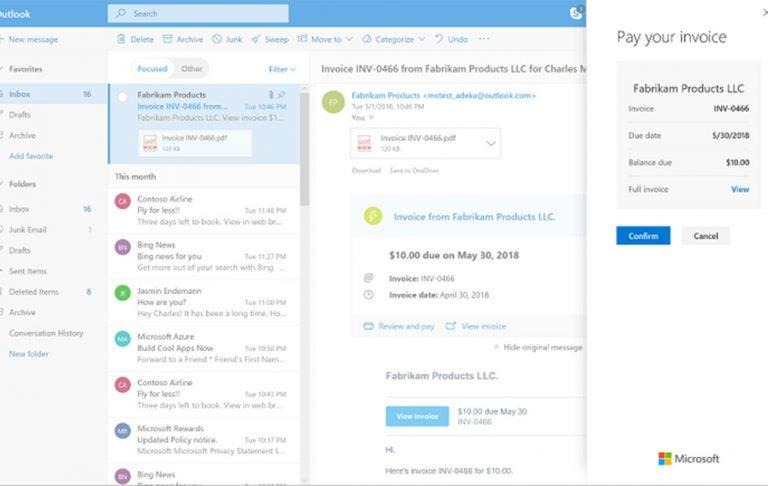 Microsoft Outlook users will soon be able to pay their bills directly from their inbox, the company has revealed. The new feature, which is powered by Microsoft Pay, will simplify the bill-payment process by adding support for various payment processors, billing services, and invoicing services. Several companies are in the pipeline for support at launch.
Payments inside of existing applications are slowly becoming the norm. Facebook Messenger, for example, supports sending users payment within the messaging app, and Instagram is in the process of rolling out a payment tool for brands.
A payment tool within an email service is arguably more useful, however, since most people get emailed, rather than paper, bills and invoices. Once it launches, Outlook users will be able to directly pay any bills or invoices they receive in messages.
Initial support will include the payment processors Braintree and Stripe, as well as numerous invoicing services like Intuit, Freshbooks, and Xero, plus the billing service Zuora (and possibly others). Microsoft says it is working on adding support for other companies including Fiserv. The feature will require companies that send email bills and invoices to include a payment action with the messages.
As far as support goes, some Outlook.com users are set to get access to the payment option first. The rollout for that initial batch will happen over the next few weeks, then wider access will start rolling out "in coming months."
SOURCE: Microsoft