Outlook Spaces surfaces as a tool for getting organized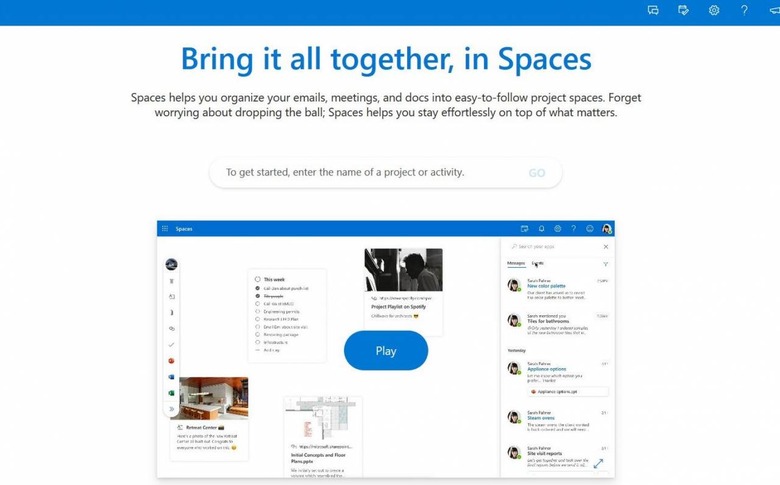 Gathering everything you need for a work or school project can be a big project in itself, and it looks like Microsoft is plotting new Outlook features to help with that. Over the weekend, a new feature called Outlook Spaces surfaced. Details are still fairly slim as we're lacking an official reveal from Microsoft, but it appears that Spaces will be baked into Outlook for Web and let you organize the stuff you need for a project in one place.
The feature was uncovered by Twitter user WalkingCat, who published a promotional video for Spaces along with a few screenshots. "Spaces takes that one email you were looking for, the big meeting, the little details, and organizes it into spaces," the video tells us, showing us an interface that surfaces things like messages, documents, to-do lists, and even Spotify playlists as slides that can be moved around and rearranged.
Since this is still an unannounced feature, there isn't an easy way to access it yet, but surprisingly, it is still accessible to those willing to dive into Outlook for Web's dev tools. As WalkingCat explains, those who log into Outlook for Web (which requires either a work or school Office 365 account; not a personal account) can flip on Spaces by going into DevTools > Storage > LocalStorage, then adding the "featureOverrides" key with the value "outlookSpaces-enabled" and refreshing their browsers.
If you decide to go that route, you probably shouldn't expect a fully fleshed-out feature yet. Still, Spaces does still have some handy features even at this early stage, as it will search your Office 365 account for emails and documents that may be relevant the your project based on keywords and search terms you enter when you create a new space.
There's no indication of when Microsoft may actually reveal this feature, but with it now out in the open, it may not be long before the company makes things official. We'll keep our eyes peeled for more, so stay tuned.