Outlook for Windows RT incoming with 8.1; new Surface update detailed

Microsoft has confirmed that Windows RT tablets will get a full copy of Outlook 2013 RT as of the Windows 8.1 update, helping open a few more enterprise doors for slates like Surface. The app, not currently available for "Windows-on-ARM", has been a frequently requested one, Microsoft conceded, and the company hopes will help shift Windows RT out of the grey area between business and personal use.
So far, Microsoft has been bundling Office 2013 RT with Windows RT, including OneNote, Word, Excel, and PowerPoint. These, in fact, are the only apps which get to use the OS' traditional desktop mode.
However, an enterprise-grade email client has been lacking, and that has meant that users wanting to do everything for work on their tablet have had to look to a full version of Windows 8. With the arrival of Windows 8.1, though, that'll be another blip on the RT roster that's addressed, complete with a touch-tailored UI.
Other tweaks will include new VPN options and more mobile device management support, which will mean the Surface RT and other RT slates can be managed and certified remotely from IT departments.
It won't be the only change for Surface, and indeed there's another software update coming in about a week's time, Microsoft says. That will change the Type Cover and Touch Cover, the magnetically-attached keyboards for Surface and Surface Pro, notably the ability to switch the function key row between shortcuts and F1-12.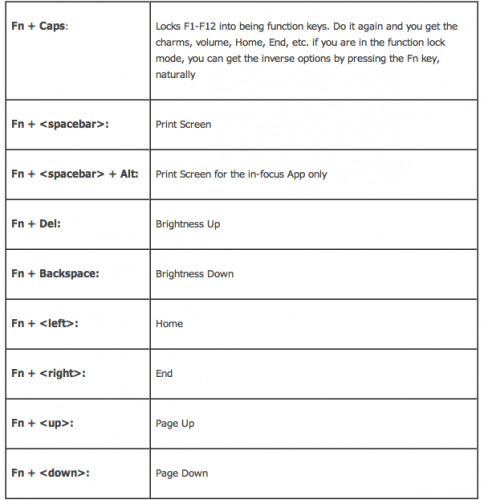 There are also quick access keys for Print Screen (and just the in-focus app), adjusting the brightness of the display, and navigating through documents and webpages.
Microsoft hasn't seen the response to Windows RT that it might have hoped for, with plans among manufacturers to release tablets running the OS – which uses low-power ARM chips, rather than x86 processors from Intel and AMD – being frozen or cancelled altogether after market reaction proved weak. One of the most common complaints has been the confusing absence of broad app compatibility between Windows 8 and Windows RT, despite both platforms looking ostensibly the same.
According to industry rumors, Microsoft will react not only by introducing new features like Outlook RT, but by slashing licensing prices for its OEM partners. HTC is believed to be readying a roughly 7-inch Windows RT tablet for later in the year, among others.