Outlook for Mac is here (but there's a catch)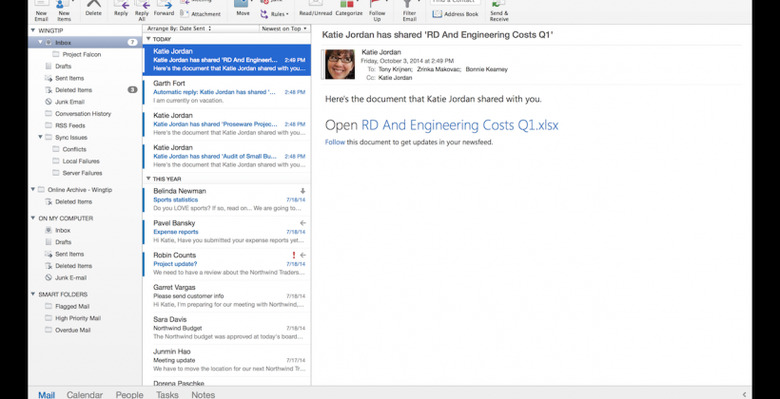 The new Outlook for Mac has finally made its much-anticipated debut, revamping the email app for Apple's computers with a boost in performance and a switch to the cleaner UI we've seen on other recent Microsoft apps. Matching more closely its iPad, iPhone, and Android Outlook Web App counterparts, as well as Outlook's web and PC versions, the new email app should also run faster and crash less than before, thanks to Microsoft's backend improvements. However, before you get too excited, there's a strong possibility that you won't be able to use it.
That's because Microsoft is only offering the new Outlook for Mac to its Office 365 customers, who cough up a subscription fee.
Everyone – whether they subscribe to Office 365 commercial, or the Home, Personal, or University packages – is eligible to download. Microsoft does recommend uninstalling Outlook for Mac 2011 first, however, though the new Outlook will work alongside Office for Mac 2011.
Unfortunately, there's no standalone license for the software at this stage.
Other improvements include online archive support for searching through old Exchange mail, synchronization between platforms for Master Category List (including name and color), and a boost in first-time and email download speeds. Office 365 mail accounts also get push email.
Meanwhile, as for the remainder of the Office for Mac suite, Microsoft says we'll have to wait a little longer before we see them.
Word for Mac, Excel for Mac, PowerPoint for Mac, and OneNote for Mac will all arrive in public beta in the first half of 2015. The full release will then take place in the second half of the year.
Office 365 subscribers – both commercial and consumer – will get the next version included at no extra cost, Microsoft says, and there'll also be a perpetual license for Office for Mac offered at the same time.
SOURCE Office Blog