OtterBox Rugged Laptop Case Video Review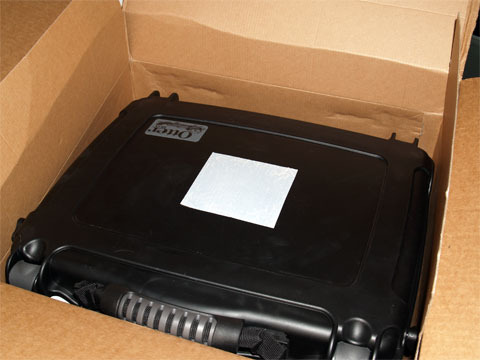 Buying a laptop is one of the biggest investments that you're likely to make, and the last thing you want happening to that $2,000 portable is some sort of damage. When you spend so much on one product, even a little scratch tends to bother you, let alone a full on crash with the ground. Unfortunately, this is exactly what often happens, but at least offers a product to help prevent that from happening. Otterbox, a company known for its line of protective cases for all types of products, has released a specialized case for laptops. Available in three customizable sizes, the rugged case provides water, dust and impact protection – though, as we found out, under no circumstances will it survive being run over by a vehicle (see video below). The smallest case, the Otterbox 7020, accommodates laptops with screens smaller than 14". The Otterbox 7030 accommodates screens 14"-15", and the Otterbox 7040 accommodates screens larger than 15".
I recently had an opportunity to put this rugged laptop carrying case to the test; by test I mean to the extreme. I discovered quickly that if protection is the utmost importance, then is the right product for you. However, if lugging around a laptop is already too much work, then steer clear of the Otterbox; this 8-pound case will add a nice bit of weight to your 6 or 7+ pound laptop. On the plus side, hauling around 14+ pounds every day makes for one hell of a workout. I'd misunderstood from our Otterbox representative [informed me that the final production unit would be slightly lighter; this is a huge sigh of relief!] that the production unit would be lighter; this isn't case. The reference to lighter material is for use in future products. So for now, we'll just have to deal with the slightly heavier case which isn't too bad at all.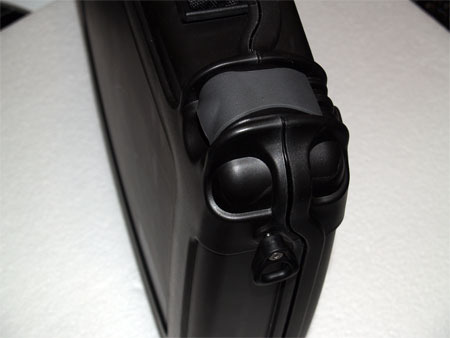 The latches close securely, and yet are still very easy to open once you get a hang of it (see video for demonstration); there's also a lock included if you're super paranoid about others getting access to your goods. Despite the weight, I found that the carrying handle has a good feel to it and makes it easy to keep a firm hold. There's nothing awfully special about the shoulder strap other than freeing up both hands. Despite the springiness, my shoulder started to sense aches and pains on longer walks – you should be fine going from your car to the office. Other features include no-slide rubber grips on the bottom allow for a sturdy, scratch-free hold on any surface and automatic pressure equalization. Trust me, after I threw this bad boy around and stomped on it, the surface does indeed get scratched up. Internally, it was nice to know that the model 7040 was able to accommodate any size laptop larger than 15", but I was disappointed that there wasn't any other way to store my charger, file folders or pens. Rest assured, the add-on will be available later this year feature will be available in the final unit. Otterbox also improved the Velcro lining in the production unit for better protection.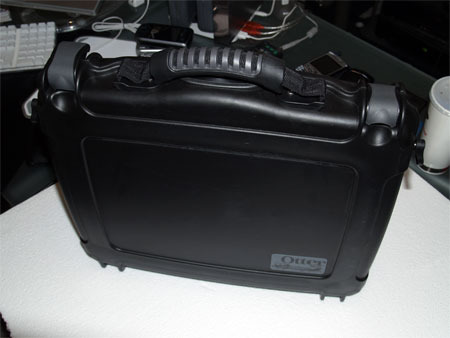 Ok, now that I got all that technical info out of the way, a single question remains – did the case serve and protect as advertised? YES! The Otterbox rugged laptop case served, protected and acted professional in every way. The water test was performed on the production unit (were giving it away – see rules below) while the rugged portion of the test was performed on the pre-production unit.
Unboxing and Waterproof test
I'd be lying if I told you that I wasn't one least bit worried for my precious Macbook Pro during the waterproof test; but after a successful test of the Otterbox for the video iPod, I have every confidence in Otterbox. I invite you to watch the video review of water test below and see the results for yourself.
How tough is the Otterbox Rugged Laptop Case?
I packed two pieces of Styrofoam roughly the size of a laptop in the case. I then proceeded to really put this case through the ringer. I stomped on it. Then stomped on it a bunch more. Next, I ran it over with my Toyota 4Runner! This you have to see with your own eyes; the case literally broke into pieces, yet managed to protect the two pieces of Styrofoam to the very end. Upon closer inspection of the Styrofoam, there were only minimal indentions. This is absolutely unbelievable; the Styrofoam was well protected by the case.[flv]https://www.slashgear.com/videos/otterbox1.flv[/flv]Video review of OtterBox Rugged Laptop Case
NOTE: No real products (other than Otterbox case) were harmed during these extreme tests.
I hope that Otterbox will find a way to forgive me for demolishing the case. This was the only way for me to find out if I can trust it to protect my precious Macbook Pro. Now that I know it can, this will be a must-buy in order to protect my investment.
Win this case!
Post a reply in this article explaining why you MUST win. Give explicit examples and/or send images (r3media@gmail.com) related to work or activities where the case will protect your precious laptop. SlashGear staff will pick the top three entries where the winner will be determined by a poll. The poll will run for 3 days. Entry with the most votes wins.
Entries must be submitted by 11:59 PM PST on August 14, 2006. This contest is only open for U.S. residence.
View all the images in the gallery.
Otterbox Product page – Price: $169.95