Oshkosh Defense shows off Light Combat Vehicle for next gen military transport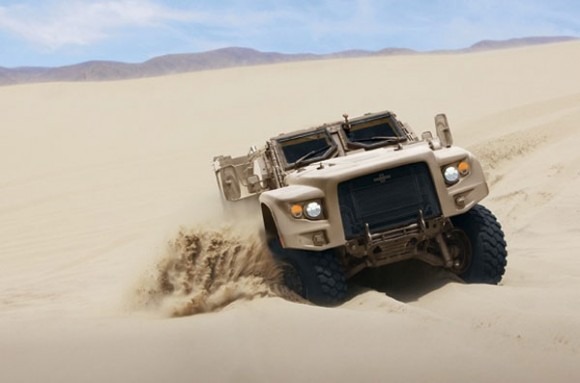 The US military relies heavily on the Hummer today to get smaller groups of soldiers around on the battlefield and while on missions. The work on the replacement for the Hummer is underway with one company called Oshkosh Defense now showing off its next-generation Light Combat Vehicle dubbed the L-ATV. Oshkosh Defense already provides the military with heavy and medium MRAP vehicles for all sorts of operational needs.
The L-ATV is described as affordable with field proven technologies inside along with advanced armor systems to keep the military personnel inside the vehicle safer from enemy attack. The vehicle is also designed to allow for growth and improvement of the platform with the ability to take accepts new additional armor packages and technology upgrades depending on mission needs.
The L-ATV uses the Oshkosh TAK-4i independent suspension system to allow the vehicle to navigate on and off-road terrain. It has 20-inches of independent wheel travel, 25% more than any vehicle in the US fleet today. The armored capsule the vehicle uses can protect the crew from IEDs and other threats. The engine that powers the L-ATV is an OshKosh ProPulse diesel-hybrid. The hybrid design allows for greater fuel economy, meaning fewer stops for fuel, less fuel needed for missions, and a longer fighting range.