OS X Yosemite named as Apple talks implementation of Mavericks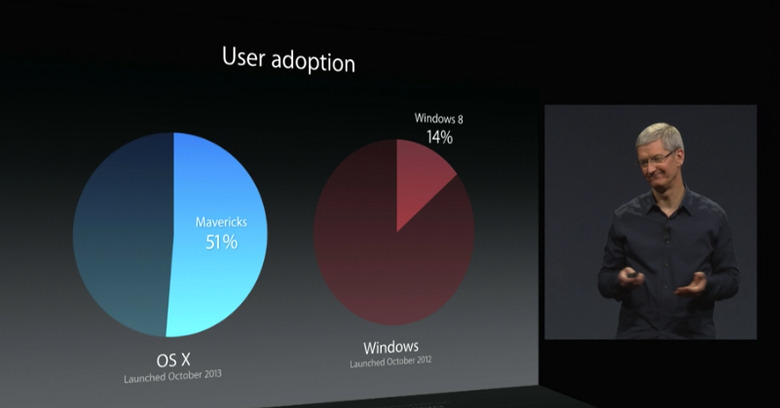 At WWDC 2014, Apple CEO Tim Cook took to the stage first, and laid out the plans for this year's conference. He laid out some implementation numbers ahead of Craig Federighi releasing the official name of the new desktop platform: Yosemite.
Those implementation numbers? A bit tongue-in-cheek, really. Cook noted that while the PC market was down 5%, Macs were up 12% over last year. He noted 80 million Mac users, with most of them using OS X Mavericks. According to Cook, over 50% of OS X users are on the latest version.
Because Apple likes to be tongue-in-cheek, Cook also mentioned Windows 8's install base. According to him, their install base was minute compared to OS X — even though it's been out over a year ahead of Mavericks.
As for the naming, Apple is keeping with their California hot spot scheme. Oxnard? No, not cool enough. Rancho Cucamonga? Nice, but no. Weed? Well, yes, but also no. Settling on Yosemite, the new OS X looks the part, and we'll be breaking out it's features all day for you.
Stay tuned for our ongoing coverage of WWDC, and be sure to check
for all your WWDC and Apple news — this week and beyond!