Orobis Transform Offers Apple Lightning And Micro USB In One Cable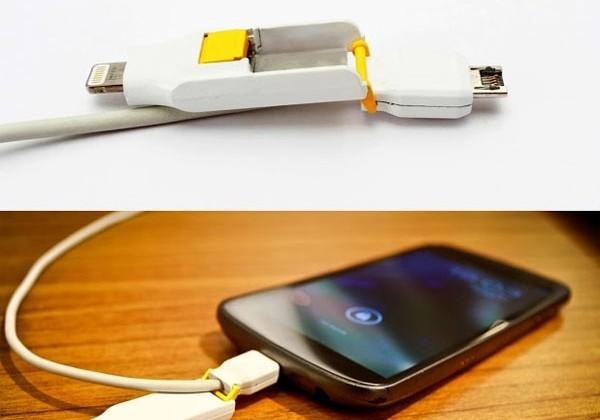 If you travel with multiple gadgets, it can be a pain having to carry a bunch of different cables. The good news is that many gadgets all share the same charging port in the form of a micro USB port for charging for synchronizing. The bad news if you use an iPhone 5 or the iPad mini is that Apple switched to a proprietary Lightning cable.
A new product has turned up on Indiegogo that aims to let you take one cable to work with both micro USB devices and devices needing the Apple Lightning cable for charging and synchronization. The product is called the Orobis Transform. The product is a cable with a special adapter on the end that flips over the top of the micro USB connector and locks in place.
That adapter turns the micro USB connector into the Apple Lightning connector needed for the latest Apple gadgets. To make the system work, the micro USB looks a bit different than you're probably used to seeing. Almost half of the micro USB connector is open allowing the exposed prongs to touch the Lightning adapter when you need the charge or sync Apple devices.
The Orobis Transform comes in a standard 1 m cable length. The cable will be available in black or white colors, assuming the project funds on Indiegogo. The team is seeking money to bring the cable the market and notes that the open micro USB connector is especially expensive to produce. The project is seeking $25,000 and has 42 days left. So far, it has raised $2889. Interestingly, there is no mention on the product page about licensing fees for Apple's Lightning connector.