Original Battlefront lands on GOG in time for Star Wars Day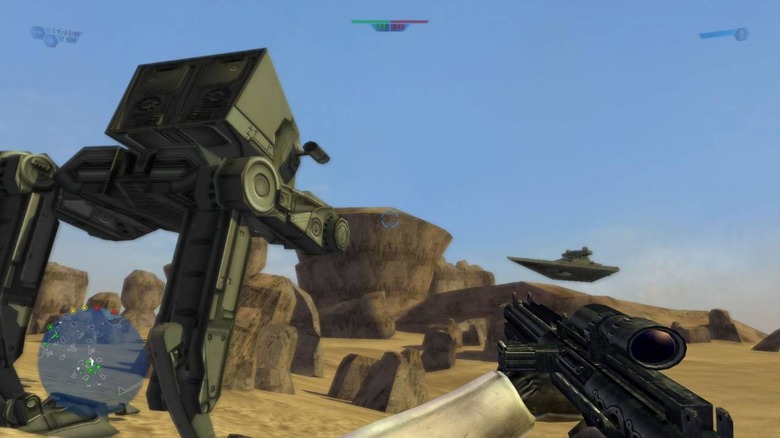 If there's one good thing that came from all of the controversy surrounding the turbulent launch of Star Wars: Battlefront 2 in 2017, it's that the classic Battlefront games were thrust back into the spotlight as examples of just how good the series used to be. Perhaps it isn't surprising, then, to hear that the original Battlefront is coming to GOG today, which as always means that it'll be available DRM-free.
Just to be as clear as possible, when we say "original Battlefront," we don't mean the 2015 reboot of the series that is also just called Star Wars: Battlefront. No, we're talking about the game that started it all way back in 2004. We would like to take a moment to thank EA for changing literally nothing when it named the modern day Battlefront games and creating the potential for all this confusion.
With that out of the way, the arrival of Battlefront on GOG kicks off the platform's Star Wars Day promotion. With Star Wars Day quickly approaching on May 4th, GOG has discounted a number of Star Wars games, including Knights of the Old Republic, Jedi Knight II: Jedi Outcast, and Episode 1: Racer. Even the freshly-released Battlefront is 15% off, bringing its price down to a paltry $8.49. That's not bad for a game that many say stands the test of time, even if it is 15 years old.
While most people usually talk about Battlefront 2 when they look back on the great Star Wars games of the past, the original Battlefront is no slouch. GOG's store listing for Battlefront advertises the game's 32-player online matches as well, so it seems that the multiplayer servers are up and running for this release.
It's worth pointing out that 2005's Battlefront 2 is also available on GOG, so with today's release, you can own both classic titles through the service. It's on sale during this Star Wars Day promotion as well, and it's marked down to $3.49. GOG's Star Wars Day sale runs through May 9th at 10 PM UTC, so you've got just a hair over a week to take advantage of these deals.