Original Apple-1 expected to sell for up to $242k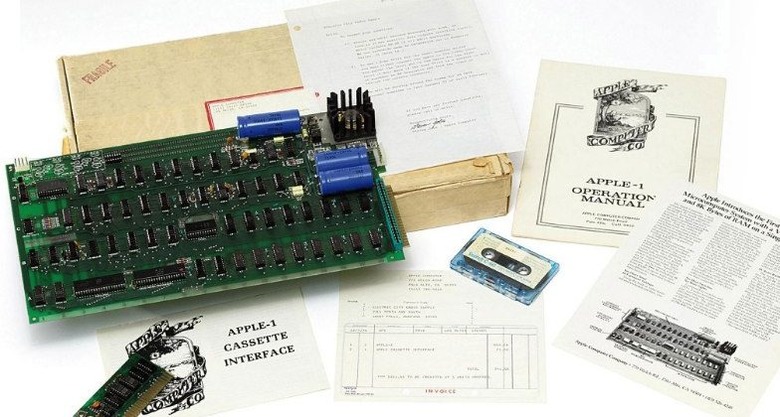 An original Apple-1 computer will go up for auction at Christie's on November 23, apparently hand-made by Steve Wozniak and "despatched from the garage of Steve Jobs' parents' house – the return address on the original packaging present here." The Apple-1 was the machine that Jobs and Wozniak first began with in 1976, and estimates suggest only 200 were produced; Christie's expect this No.84 example to sell for somewhere in the region of $161,000 to $242,000.
From the description, the Apple-1 has been tinkered with somewhat by its original owner; there's apparently a "breadboard area with slightly later connector, with later soldering, wires and electrical tape" on the back. However, you're still getting the 6502 microprocessor, printed circuit board with 4 rows A-D and columns 1-18, three capacitors, heatsink, a cassette board connector, 8K bytes of RAM, a keyboard interface and video terminal.
It also comes with the original packaging and instructions, and even the shipping box Woz and Jobs bundled it up with. If it sells for Christie's estimate, that's a considerable increase over the unusual $666.66 selling price Wozniak first decided on for the computer.
[via Bits]