Origin mechanical smart watch by Grayton is self-winding, water resistant, and track activity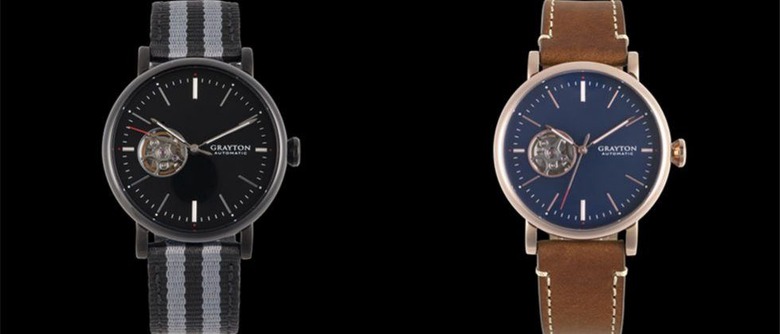 Most of the smartwatches on the market today are digital with some sort of display rather than an actual watchface. That's not what the Origin mechanical watch is though. This is an old-school looking mechanical watch that also has smart features inside the band. The watch itself is pure mechanical and has no electronics inside.
All the electronics needed for the Bluetooth connectivity, notifications,and activity tracking are inside the watch band. With the fancy band users and get notifications, calendar reminders, control music, and more. The watch comes in several colors including traditional steel, continental black, classic brown, vintage marine, and blossom beige.
The watch is self-winding and water resistant to 100M. On the face of the watch is a window that allows you to see the self-winding mechanism at work. Flip the watch over and you can see the movement through the glass back. Self-winding means no battery will ever need to be replaced.
The Japanese movement makes 21,600 beats per hour and has 24 jewels for accuracy. The watch can run for 41 hours between wearings. The 12, 3, 6, and 9 markings glow along with the hands so you can read the watch in the dark. Notifications don't show you who is calling, you get vibrations to tell you what the notification is for and then you need to look at the phone for the notification.
Origin is on Indiegogo seeking $25,000 and has raised over $48,000 so far with a month to go. One Origin watch will cost you $149 or more with shipping in May 2017. The retail price is said to be $444. A pledge of $169 gets you the watch and an extra classic leather strap in addition to the smart strap with the connectivity tech inside.
SOURCE: Indiegogo