ORIGIN EON18 gaming notebook packs Core i7 Extreme and dual GPU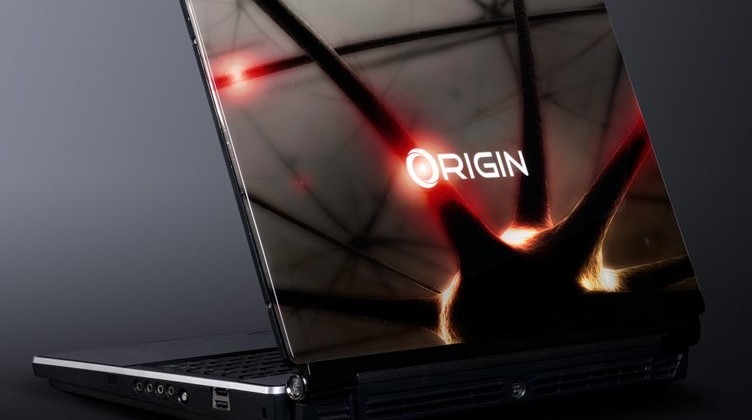 There's frankly no shortage of boutique gaming laptop manufacturers who'll happily swap the contents of your wallet (or the limit of your credit card) for a high-powered notebook, and ORIGIN have racked up their newest model, the EON18, as another potential choice.  The EON18 packs Intel's Core i7-920XM Extreme processor paired with up to 8GB of DDR3 RAM, dual NVIDIA GeForce GTX 285M graphics and an 18.4-inch Full HD display.
There's also room for up to three SSDs in optional RAID configurations, as well as a Blu-ray burner.  Custom controls include programmable gaming keys and touch-sensitive shortcuts, and unsurprisingly there's room for a separate numeric keyboard too.
ORIGIN will finish the EON18 in any way you see fit, offering various custom paintjobs and finishes, though don't be surprised if you end up with a very expensive machine in your shopping cart.  The EON18 starts from $2,299, though once you start hitting those options don't be surprised to see $4k-5k approach at great speed.
Press Release:
ORIGIN's EON18: The New Leader in Custom Gaming Laptops Now Offers the Most Powerful and Fastest Gaming Technology in the World

MIAMI–(BUSINESS WIRE)–ORIGIN, a leader in custom gaming computers, has unveiled the new EON18 custom gaming laptop combining the latest and fastest processors and graphics solutions to deliver record breaking performance and set a new bar for custom gaming laptops.

"The EON18 is for gamers who crave power and speed over cute and petite."

The new ORIGIN EON18 laptop takes the PC gaming experience to levels where there are no compromises by delivering the latest mobile Intel® CoreTM i7 Extreme CPU and dual NVIDIA® GeForce® GTX 285M GPU's powered by SLITM Technology. With all game settings cranked, this rig outputs a gorgeous visual experience and framerates that are unsurpassed by any other laptop. ORIGIN has brought together the latest hardware in the computer gaming industry with visceral airbrush artistry from Killer Paint to bring gamers the best in personal design and deliver a powerful yet one of a kind gaming computer.

NEW EON18 Custom Gaming Notebook

CPU: Intel® Core i7 Extreme processors

GPU: Dual NVIDIA® GeForce GTX 285M – SLI Technology

Artwork: Unlimited Color and Design Options

Display: 18.4" FullHD (1920 x 1080) widescreen LCD

Memory: Up to 8GB Dual Channel DDR3 1333MHz

Storage: Up to three Solid-State hard drives w/RAID configurations

Optical: Dual-layer Blu-ray TM disc burner

Chassis: Programmable gaming buttons; Touch sensitive access buttons

Starting at US $2,299

"The new EON18 is all about gaming, power and performance, with the combination of Intel's Core i7 Extreme processor and NVIDIA's GeForce GTX 285M graphics all wrapped up in a package that is portable", says Kevin Wasielewski, CEO/Co-Founder of ORIGIN PC. "The EON18 is for gamers who crave power and speed over cute and petite."

All ORIGIN systems are backed up with award-winning integration, quality testing and support. ORIGIN offers a life-time phone and online service guarantee and each customer has a dedicated support team and life-time labor for all upgrade needs. Employees are experienced experts in the PC gaming and PC market and want to share their passion with their customers to offer the best gaming experience possible.