Orbitsound T14 Sound System Features Spatial Stereo Technology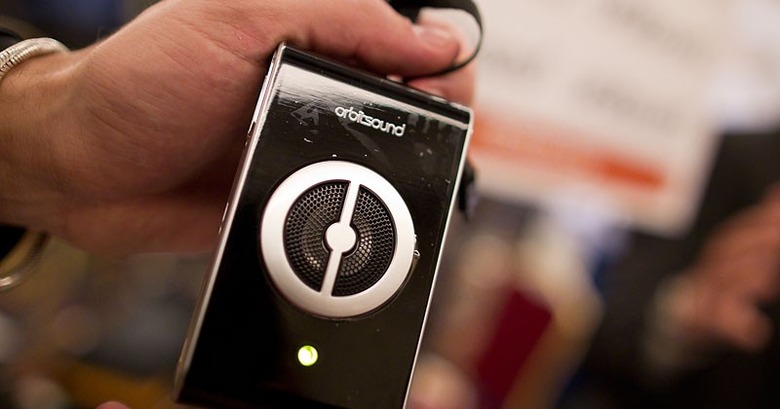 During CES' (in)famous CES Unveiled event, we got to spend some time with Orbitsound, who first made an impact on the Consumer Electronics Show back in 2008. After the company launched their successful T12 soundbar in the United Kingdom, The company has made their confident and powerful debut into the United States, with a focus on making their presence known in the global market as well. Introducing their brand new, revolutionary T14 Sound System, the company is revolutionizing the market yet again.
The company's now patented spatial stereo technology is meant to provide the "sweet spot" of music, without having to move yourself around to find the best angle to listen to your music. Designed with an industry-leading, studio-class amplifier that's been designed for eight years. The design makes it possible for the amplifier to sense the acoustic conditions, and automatically adjust itself to seamlessly promote the best sound within any room.
The T14 will also feature wireless network streaming. Owners won't have to worry about networking or wires, along with "remote-o-dock" which will be available for the iPod Touch or iPhone. The dock will also have an aux input, which will allow owners to connect the dock to a PC, TV or laptop. We'll have to wait to see it hit shelves, though, as Orbitsound won't have the T14 Sound System ready for retail until the third quarter of 2011. Price will be listed at $600. Check out the full press release for more information.
Press Release
Hearing is believing: Orbitsound unveils T14 sound system

4th of January 2011

Share

Pioneering British company's first global launch

Featuring 'industry first' sound amplification and audio technology

CES, Las Vegas, USA, 1600 PST, 4 January 2011: Acclaimed British audio technology brand Orbitsound is proud to announce the T14 soundbar, its first global launch and its North American debut. Featuring groundbreaking 'industry first' audio technology and wireless capability, this powerful, class leading sound system will bring cinema-quality sound into the home. The T14 prototype will be showcased, for the first time, at CES Unveiled in Las Vegas.

Since its revolutionary spatial stereo technology was unveiled at CES in 2008, Orbitsound has gone from strength to strength and is currently experiencing unprecedented sales of its T12 soundbar product through stores in the UK. Orbitsound is confident that the launch of the T14 will help to replicate this success in North America and other global markets.

The stunning T14 stands apart from other sound systems thanks to Orbitsound's now renowned patented spatial stereo technology where, unlike ordinary stereo, there is no need to be in the 'sweet spot' to get the full effect. The T14 also features another industry first; a studio class amplifier design that has been eight years in development within the company's R&D HQ in the UK. The amplifier senses acoustic conditions and the performance then automatically adjusts itself seamlessly to the room and acoustic environment. There is nothing to set up and the result is a wide audio response and fantastic clarity and consistency across all types of sound and music.

Orbitsound's new T14 also features wireless network streaming. This allows users to broadcast their music directly to the device without the need for a transmitter or wires via a remote 'o-dock' for iPod or iPhone. The o-dock also features an aux input for wirelessly connecting a TV, PC or laptop to the T14. This effectively provides a flexible and high fidelity entertainment solution that is simple to use and without complex wiring and connections.

The team behind Orbitsound includes Ted Fletcher, a former musician and renowned audio electronics designer, who has previously worked with Joe Meek, The Eagles and Elton John. Former investment bankers Harvinder Hungin (Executive Chairman) and John Cameron (COO) are passionate about business and have proven successful across several sectors.

Harvinder Hungin comments, "Orbitsound is poised for substantial growth in 2011 with ambitious expansion plans for North America and beyond.' Hungin continues, 'Our game changing, patented spatial stereo technology embedded in the new T14 soundbar delivers high definition, stunning sound to accompany the high definition pictures of the latest HD and 3D TVs. Its state-of-the-art wireless connectivity also removes the issue of clutter, often associated with many traditional 5.1 systems. The T14 is essentially the quintessential modern, powerful home entertainment sound system for contemporary living."

The T14 features a high gloss black lacquer finish and has the additional benefit of being wall mountable. Featuring six 2.5 " full range high fidelity drivers, the amplifier power is 120W RMS and the main unit comes with a wireless-linked subwoofer with integrated digital amplifier. The T14 also includes both 3.5mm stereo & RCA analogue jacks and inputs for the latest digital TVs, MP3/MP4 players, laptop & desktop computers and games consoles. The stylish remote control unit controls all playback options and menu functions as well as volume, source and tone.

The Orbitsound T14 soundbar will cost approx. $600 and will be available globally in Q3 2011. For more information about Orbitsound, visit www.orbitsound.com.

Ends

About Orbitsound

Orbitsound's unique spatial stereo technology was first designed and realised in 2005 by Ted Fletcher, a former musician and renowned audio electronics designer with more than five decades in the music business. Former investment bankers Harvinder Hungin and John Cameron supported the development of the technology from early 2006, becoming Executive Directors of Orbitsound shortly after the company was established later the following year. At CES 2008 Orbitsound's products were highlighted on BBC and CNN news, and won a prestigious place in Disney's Best of CES show. And at last year's CES Unveiled, Orbitsound was showcased by UK Trade & Investment (UKTI) as one of the top two innovative UK technology companies with potential for international success.