Orange you sad Mazda's MX-5 Miata 30th Anniversary Edition is sold out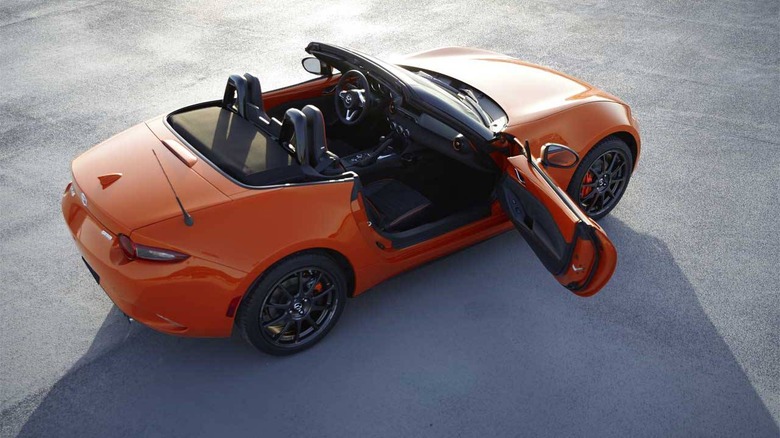 Yesterday Mazda pulled the wraps off a very special MX-5 Miata 30th Anniversary Edition at the Chicago Auto Show. The car was to be a very limited edition run with only 3,000 units offered globally. Only 500 examples were coming to the States, and all 500 of the cars were snapped up, and reservations closed in four hours.
The car had some unique options and features that made it so attractive to buyers. The only color the 30th Anniversary car comes in is the very cool Racing Orange seen in photos here. As for why that color, Mazda says that the Racing Orange was inspired by the yellow that the MX-5 Miata Club Racer was shown in at the 1989 Chicago Auto Show when it debuted.
Mazda also notes that "this new orange evokes sunrise and anticipation to celebrate the future of MX-5." Each of the 500 US buyers had to plunk down a refundable $500 deposit. That means people can back out and if that happens more cars might be available to order.
Each of the cars wears a special badge on the dash that shows its build number out of the 3,000 units available. Cars coming to the States might not have sequential numbers, and buyers don't get to choose their number. All of the cars have the same features including dark gunmetal forged aluminum Rays wheels based on the design used by the Global MX-5 Cup racing cars.
Brembo brake calipers are painted orange, manual transmission cars get Bilstein dampers, and the Recaro seats have orange contrast stitching and piping. Manual cars also get a limited-slip differential. The only options are whether you get a retractable top or soft top model and if you choose manual or automatic transmission. The starting MSRP for a soft top, manual car is $34,995.