Orange Toshiba TG01 Review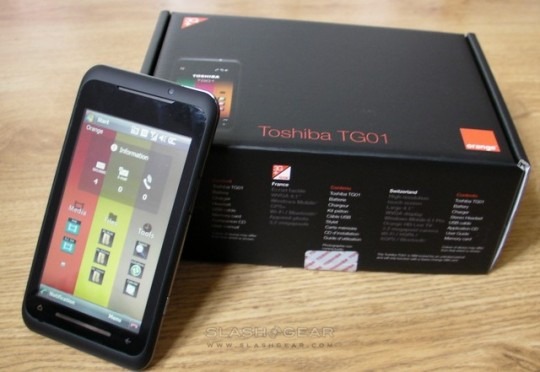 With product announcements and launches often so far apart, there's always the risk that another company will steal your thunder.  Toshiba, though, have managed to pilot their TG01 Windows Mobile smartphone to market still wearing the "biggest screen" and "first Snapdragon" crowns.  Problem is, in doing so they've arrived well in advance of Microsoft's new mobile platform.  Can the Toshiba TG01 still deliver enough to seize not only the Windows Mobile 6.1 top-spot, but push the iPhone off its pedestal?  SlashGear has been finding out.
When it first launched, we described the TG01 as a phone of superlatives; that still stands true today.  Most obvious are its display – a full 4.1-inches of resistive WVGA touchscreen – and slender dimensions, measuring just 9.9mm thick.  Less obvious, but with no less appeal, is the Qualcomm Snapdragon chipset inside, which at 1GHz well outpaces any rival device.  Into the 129 x 70 x 9.9 mm, 129 gram frame Toshiba also pour an accelerometer, WiFi b/g, Bluetooth 2.0 with A2DP, 2100MHz HSDPA and HSUPA, together with a microSD card slot and A-GPS.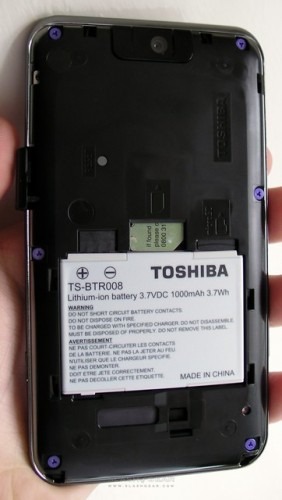 Physical controls are minimal, with the power button (which also serves to lock the handset) halfway down the left-hand side, and the volume controls curiously all the way down underneath it.  we can only assume there wasn't enough space at the top for their internal mechanics.  On the right-hand side there's a camera shortcut key and a micro USB port hidden behind a fiddly tab; that tab must be open in order to remove the fragile-feeling plastic back cover.  Inside there's the reset button, a 1,000mAh Li-Ion battery, SIM slot and microSD card slot.  The latter two require the battery be removed in order to access them, which is a frustration when it comes to the memory card.  Happily Orange provide an 8GB card rather than the usual measly 1GB or 2GB most carriers give out, so you may be able to escape changing it regularly.
In terms of software, Microsoft's Windows Mobile 6.1 does duty here.  It's almost a rarity these days to be testing a WinMo device without HTC branding, and so we've been eagerly awaiting Toshiba's own UI efforts.  As with HTC and Samsung, Toshiba have whipped up a more aesthetically pleasing overlay that sits on top of the more mundane OS; in this case, it's a series of colored vertical bars that can be panned across, three to a screen, each offering various shortcuts.
If you think that sounds like a launcher, you'd be right.  As standard each bar shows three icons, though you can swipe up to show several more spaces to fit in more shortcuts.  Happily, despite carrier Orange's – who hold exclusivity for the TG01 in the UK – reputation for unavoidable customization of handsets, here even their iconography can be junked in favor of your own shortcuts, whether they be webpage links, specific media files or apps.
Overlaid above the bars is a status box, which can be switched between various information panes.  As standard it offers links to unseen SMS, emails and phone calls, but it can also show the time, a calendar or be blanked altogether.  Unfortunately there's no way to customize it with your own information, and nor is there any way to squeeze more than the default level of detail into the pane.  Given the scale of the display Toshiba have to work with, that's a shame.  Down at the bottom of the screen, soft keys work in tandem with touch-sensitive buttons, the call/end on-screen buttons being smaller than we'd like and flanking menu and context-sensitive keys.  Underneath, there's a home button and a back key, both touch-sensitive but lacking any sort of vibration-style feedback to let you know you've tapped them, and a strip which acts as the launch point for the on-screen D-pad.
This D-pad is summoned by pressing on the strip and dragging up across the display, bringing with it not only directional controls but a Start menu shortcut and Ok button.  Translucent, it can be dragged about the screen and used for navigating larger webpages instead of tapping and dragging.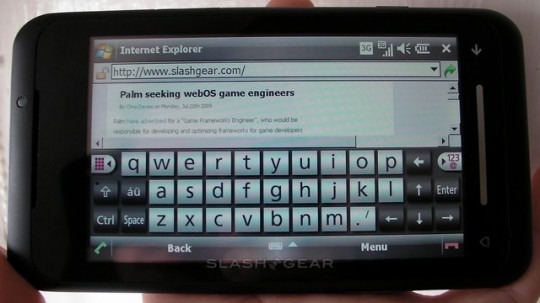 With no silo for the stylus (and the one Toshiba providing being cheap and perfunctory at best), the company's UI is thankfully finger-friendly.  It's tough to describe it as attractive, though; the shortcut buttons are unnecessarily small, and the zoom-effect when tapped causes them to pixelate unpleasantly.  Pane navigation, too, is jerky, though it's also quick.  The biggest drawback, however, is the depth of the UI, or rather the lack of it.  Where you can use a modern HTC Windows Mobile smartphone for day to day tasks without encountering the Microsoft OS, the same simply cannot be said for the TG01.  Every commonly-used app – whether messaging, contacts, calendar or phone calling – are standard WinMo fare.
That obviously loses the TG01 points on the aesthetic scale, but it also conspires to waste the span of its display.  Dialogs, menus and layouts that Microsoft designed for touchscreens half the size are left swimming on the Toshiba's 4.1-inch panel, but more criminally the times when you'd really like something to be larger – a menu option, say, or an OK button – they're still slightly undersized for a fingertip.  Yes, you can navigate sans stylus, but there's always a pause before you tap as you line-up.
Happily Toshiba have loaded their own QWERTY keyboard onto the TG01, and that makes better use of the space.  Separate screens for a phone-keypad style layout, traditional QWERTY and numbers/symbols (the latter with seven pages of different characters) are on offer, together with auto-completion.  Some of the niceties we're used to from other touchscreen keyboards aren't offered, however; there's no pop-up to show which letter your finger is pressing, and nor is there a comprehensive auto-correction to smooth over common mis-types.  The auto-completion is relatively comprehensive in its offerings, but they're presented in an undersized list, again at odds with the screen space to play with.  Most criminally, though, is the placing of the space bar in the horizontal QWERTY layout, pushed all the way to the left of the 'Z' key and the same size as the letters.  When HTC can make a workable on-screen keyboard on the comparatively compact 2.8-inch Touch Diamond2, we'd expect at least the same from Toshiba.
Still, horizontal support in every app is something we've been asking HTC for repeatedly, and the TG01 brings it first time around.  Even the homescreen UI caters for it, re-orienting so that the bars can be readily paged through with the right-hand thumb.  Despite the 1GHz processor, though, there's a curious amount of lag involved in screen rotation, with almost three seconds before the display catches up to how you're holding the smartphone.  Similarly, waking the TG01 from standby is also a bizarrely punctuated affair, with the side-button requiring a lengthy press and then several seconds of screen blackness before the phone comes to life.
If we're honest, we'd say it's difficult to tell that this is a Snapdragon handset at all.  Once underway, apps generally move swiftly – the File Explorer is particularly swift to navigate between folders, something previous WinMo handsets have proved more sluggish at – but it's not the overwhelming rush of immediacy we perhaps hoped for.  Third party software might coax more obvious performance improvements out of the TG01, and we were impressed by the trial of Orange Maps preloaded (its panning swiftness, at least, though we prefer Google Maps' interface).
One area where you'd expect the TG01 to shine is media playback, both for its horsepower and the size of its display.  As well as the standard Windows Media Player you'll find on every WinMo device, there's a second app called Video Player and a third called Coreplayer.  All three do pretty much the same thing, offering a variety of codec support, but we wish Toshiba had picked just one app and given it a TG01-considerate skin.  Video playback is either in a tiny box in the middle of the screen, surrounded by control buttons swimming in unused bezel, or you switch to full-screen and are a couple of taps away from controlling playback. Again, the common refrain is "build your apps to suit your screen", especially when you've inches to spare as on the TG01.
Still, in full-screen mode there's enough space to really get into a video, even if the TG01's ambient light sensor seems determined to cut out as much backlighting as possible.  That only serves to emphasize how glossy the display is, and the struggles in best positioning the phone will make you long for a kick-stand on the back.  Media files can be loaded either via microSD card or by plugging the TG01 into your computer; it shows up as an external drive, and you can drag & drop content across.  Alternatively Coreplayer has a YouTube viewer, though this pales in comparison to the well-designed and usable HTC version.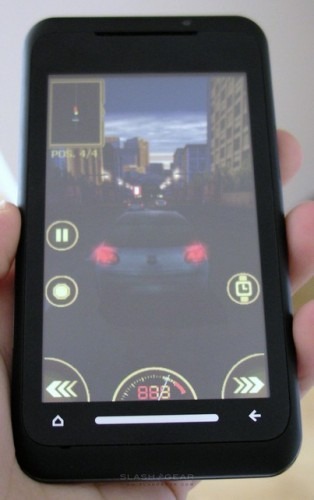 We'd recommend a set of Bluetooth headphones for use with the TG01, unless you're a very careful user indeed.  Since there's no standard 3.5mm headphone socket, you're forced to use the Toshiba adapter or the supplied headset which both plug into the micro USB port on the side.  The adapter does, at least, have a microphone and control button, together with a socket for your favorite headphones, but both it and the Toshiba headset seem precarious and destined to snap, protruding as they do from the side of the phone.  What's a wide device to start with gets even wider: almost 10cm across with the adapter plugged in.  Happily audio quality is decent, though the supplied headset is as uninspiring as such included accessories usually are.
Just as anticipated as media playback is Snapdragon's impact on mobile gaming, and Toshiba and Orange load a demo of Need For Speed Undercover and Monopoly onto the TG01 to whet your appetite.  Compared to the usual Windows Mobile stalwarts of Bubble Breaker and Solitaire, that's got to be a bonus; however a few minutes of play left us distinctly unimpressed.  Need For Speed Undercover seems to have been ported over from a non-touchscreen device with a much smaller display, as dialogs are tiny and require scrolling through rather than tapping to select.  Actual car control is done via on-screen buttons, which seems odd considering the TG01 has an accelerometer.  We had visions of holding the smartphone horizontally, iPod touch style, and tilting to steer, but NFS:Undercover is locked into portrait orientation.  It's an uninspiring inclusion, and leaves the floor open for a third-party to hopefully deliver more impressive TG01 mobile gaming.
As we've already said, the TG01's camera is a 3.2-megapixel unit with autofocus but no flash.  It will shoot both JPEG still images or 3GP or MP4 format video in a choice of QVGA or VGA resolutions, and there's a dedicated camera button on the right-hand side of the phone.  Flipping the TG01 either to the left or the right will rotate the camera display accordingly, and there are on-screen buttons to lock focus (center-spot only, no selective tap-to-focus here) and switch between resolutions.  Tapping to start recording or snap a frame triggers a surprisingly loud musical jangle or camera shutter noise, which we couldn't readily turn off.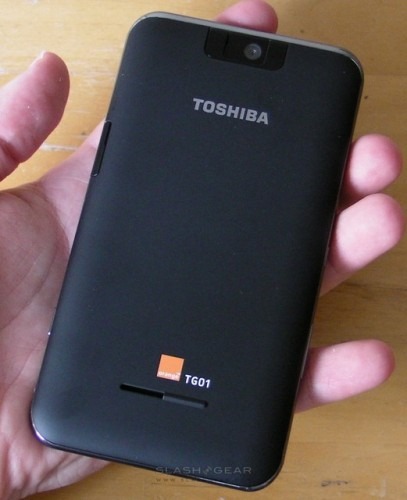 Image quality is fair, though you'll need decent light to get the best results.  Without a flash or LED light, indoor shots can be dark and lacking in detail, and night images are bordering on unusable.  Video quality is good, particularly in VGA resolution, though there's no digital zoom (only in QVGA mode); we'd prefer recording to start as soon as you tap the camera icon, though, rather than take a few seconds.  Once you've finished, the TG01 gives the option to play the clip or send it via email or MMS (though not Bluetooth, and there's no YouTube upload option).
We had high hopes for the TG01's performance as a web browsing device, and were disappointed to see that Toshiba failed to offer anything other than the basic Internet Explorer Mobile 6.  Having been spoilt with Opera Mobile on HTC devices, we didn't hold our breath with for IEM6; however, with a few tweaks (primarily to ensure you see desktop webpages, rather than their mobile versions) it's actually pretty usable.  Rendering is quick and, once you've trained yourself to tap firmly on the resistive touchscreen, dragging around pages is impressively smooth.  There's also Flash support, so YouTube video loads in-page and plays with no issues, though some sites did warn us that the version of Flash offered was insufficient for their content.
Try to get more in depth with webpages, however, and the cracks begin to show.  Zooming is handled by the touch-strip at the bottom of the phone, and is jerky and counter-intuitive, while tapping a block of text will only zoom in to a certain, not-quite-enough point and fails to re-format it as you'd find on Mobile Safari on the iPhone.  The touchscreen is not as finger-forgiving as we'd like, either, which can make selecting links frustrating, and there's no tabbed browsing as you'd get in rival apps.
As a phone, the TG01 puts in a decent performance, with reasonable sound quality for both parties and a clear, well-spaced dialer app.  WinMo6.1's ready integration with Exchange  means the contacts app can be speedily filled; alternatively, Google Sync brings any contacts (and appointments) in from their service.  One minor frustration is trying to get to a number pad mid-call, such as when navigating automated menus; this requires a couple of taps, rather than being an upfront option.
As for battery life, runtimes were never going to be superlative when you consider the size constraints involved.  Standby times were reasonable, but the combined impact of the large display, processor and wireless connectivity meant we needed to recharge the TG01 nightly.  Turning off push email made a significant difference, as did throttling back the CPU, though we considered that to be contrary to the nature of the handset.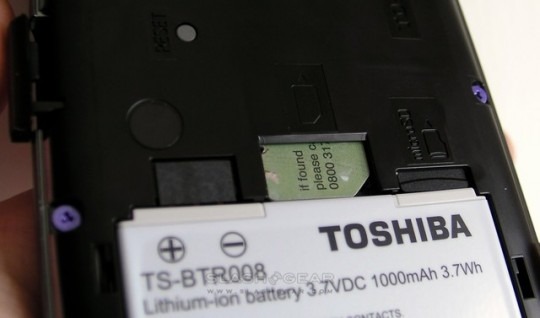 Just when you think, though, that Toshiba rushed the TG01 out with the barest possible tweaks, they surprise you with an unexpected feature.  Included in the box is a micro USB to USB port adapter, meaning the smartphone supports USB Host: plug in a thumb-drive and its contents show up in File Explorer; add a USB keyboard or mouse, and you've turned your TG01 into a MID of sorts.  In our experience the functionality works as long as the device you're connecting doesn't require specific drivers or software.
So equipped, the Toshiba TG01 gets something of a new lease of life.  We already know that Snapdragon is enough for basic netbook functionality – Qualcomm and their hardware partners have already been showing off reference designs – and with the right software the TG01 could make for an interesting mobile work or blogging platform.  It won't replace a laptop, certainly, but for keeping up with email and even basic document editing in Office Mobile (which includes Word, OneNote, Excel and PowerPoint mobile clients) the addition of a keyboard and mouse bypass the frustrations of the on-screen 'board.  Again, it's Windows Mobile 6.1 that proves the biggest sticking point, and with no Windows Marketplace for Mobile yet (it will arrive on WM6.1 by the end of the year, we're told, but by then Orange will have made Windows Mobile 6.5 available for TG01 owners) it requires users to go out and find the productivity apps that would make this a viable MID-style platform.
Ironically, then, it's not some speedy third-party who have stolen Toshiba's thunder, but the company themselves.  In their rush to get the TG01 to market, they've lumbered it with an aging platform and a UI with all the allure of a poorly fitting suit.  Snapdragon and the biggest display on a Windows Mobile phone on the market should be irresistible draws, but the take-away impression of the TG01 is of a device half-hearted in its delivery and frustrating in its execution.  You can't really ask for a better head-start than a 4.1-inch touchscreen when it comes to finger-friendliness, but pokey, inconsistent iconography leave you scraping at the TG01 with a fingernail.
Windows Mobile 6.5 could solve many of the Toshiba TG01's woes, and we're pleased to hear that Orange will be delivering upgrades to the new OS once it's available.  We're just not sure we could live with the TG01 experience as it stands until then.
The Toshiba TG01 is available in the UK on Orange now, priced from free on new qualifying plans.Unboxing and UI overview video:
[vms c5280214e0486b273a5f]