Orange to offer new Fujitsu Stylistic S01 phone for older people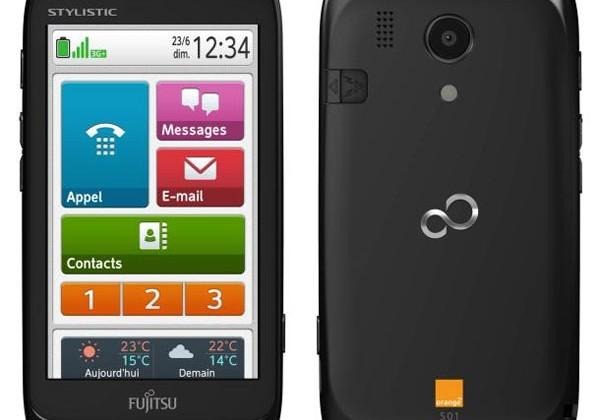 With the difficulty my mom and dad have operating basic flip phones, I shudder to think of what they would do if I placed an iPhone or a new Android device in their hands. Many older people out there don't want complicated, high-end smartphones, they want something that's simple to use and just makes phone calls. Orange has just such a device for older people from Fujitsu called the Stylistic S01.
While the smartphone is designed with a simple and uncluttered user interface, it does run the Android operating system. It has a four-inch display and is water and dust resistant. Judging by how many times my parents have dropped their devices, being a bit rugged is a good thing. The phone has a number of features specifically designed to make the device easier to use for older people that Fujitsu borrowed from its Raku-Raku series that has been available in Japan for over 10 years.
The screen has a special feature to make it more like using a phone with physical buttons. The screen requires that the user press as hard on the screen as a user would have to push with a physical button. The goal here is to prevent users from accidentally hitting the wrong key. The device also has a strange feature that promises to slow the speech of talkers who are talking too quickly without changing the pitch of their voice or delaying the conversation.
The phone also automatically adjusts audio quality to help users hear better and has a function that adjust the frequency of the sound based on the age the user enters. The device also has a loud personal security alarm to help alert people if you're in trouble. The smartphone runs Android 4.0 and runs a QUALCOMM MSM8255 1.4 GHz processor. The device has an 8.1-megapixel rear camera and a front camera for video calling. The device will land on Orange in France this June.
[via CNET]