Orange Iqua BHS-603 SUN Bluetooth headset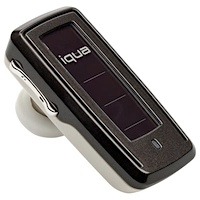 200 hours of standby time and up to 9 hours of talk time, that's what you can expect from this headset in the dark. The solar panel on the side, yeah, that should up those numbers a respectable amount in the sun light.
Its 14 grams, which is pretty light, and as far as BT headsets go, its not too terribly unattractive, which is surprising considering adding solar panels generally makes whatever they've been added to quite hideous. Its kind of sad we had to wait this long for such an obvious solar power upgrade, I mean sure, on cell phones, not much sense, they are usually in your pocket, but headsets, generally on your head, in direct sunlight.
Orange, the French cellular operator, is the company who will be retailing these headsets, so no word on whether you will be able to get one sent over here. They aren't available yet, and we don't know when they will be, but they are on Orange's site, so I presume soon, and when they are, they will cost you about £49.99 or close to $104 USD.
Orange to release the "world's first" solar-powered Bluetooth headset – Iqua BHS-603 SUN [via intomobile]