Orange HD Voice promises crystal-clear audio (if you have the right phone)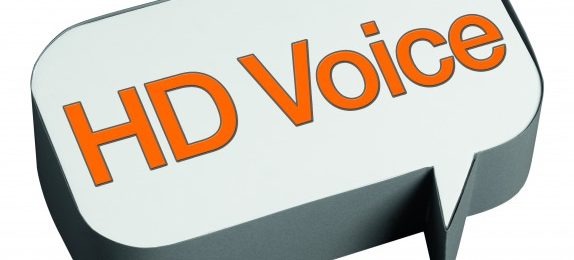 Orange UK has officially launched High Definition Voice, a new voice technology that claims to dramatically reduce background noise and increase audio quality.  Available only on select handsets – initially updated versions of the Nokia 5230, Nokia X6, Nokia E5 and Samsung Omnia Pro – the carrier is hoping that more manufacturers jump on board with their own compatible hardware.
Video demo after the cut
HD Voice brings with it a new logo, too, so that devices supporting the standard can be easily spotted.  Unfortunately there's no sign of an update for existing devices to make them HD Voice compatible, and none of the other networks have announced their own plans for supporting the technology.
Still, if you're consistently frustrated by poor cellphone audio quality, and only ever talk to other Orange subscribers (who don't mind buying a new phone) then this news should make your day.
Press Release:
Crystal clear calling as Orange revolutionises UK mobile phone calls with the launch of High Definition Voice

Orange becomes the first operator to launch mobile HD Voice in the UK, signalling the dawn of a new era in mobile communications for customers

HD Voice reduces background noise and decreases perceived distance between callers by providing crystal clear calls

HD Voice is available from today nationwide at no extra cost for all Orange customers with an HD voice enabled handset

Orange today announced the first major advancement in UK mobile voice calling for 20 years with the launch of mobile High Definition (HD) Voice. Providing crystal clear sound quality for calls, mobile users will see the service set a new consumer benchmark, with today's move testament to Orange's continuing focus on innovation.

HD Voice offers a proven improvement in the sound quality of traditional mobile voice calls. The service eliminates the distance between friends, relatives and colleagues to make callers voices sound like they do when communicating face to face. Reducing the background noise, hisses and crackles of normal mobile calls, HD Voice also excels in noisy environments, so whether you're at a football match or concert, on a building site or next to heavy traffic – HD Voice gives louder, clearer, sharper mobile calls. This will come as a relief for a third (32%) of Brits who blame background noise including road works or noisy chatty friends as the biggest disturbance in conversations*.

Orange HD Voice is available at no extra cost to all Orange mobile customers who take a HD Voice enabled handset. From launch, new variants of the Nokia 5230, Nokia X6, Nokia E5 and Samsung Omnia Pro will be HD Voice enabled with further manufactures expected to offer HD handsets in the coming months. All HD Voice enabled handsets will be labelled with the Orange HD Voice logo, helping customers to easily recognise those devices that support the new Orange HD Voice service. HD Voice demonstration units will also be available in Orange shops.

Tom Alexander, Chief Executive of Everything Everywhere, the company which runs Orange UK, said: "Although what we use our mobile handsets for has evolved significantly in the past few years – the way we make mobile calls hasn't changed a great deal since the 1990s. So we're proud to be the first telecommunications brand in the UK to change this and offer customers a revolutionary new calling experience. With mobile HD Voice – hearing really is believing".

HD Voice also opens up new opportunities for better ways of working in business. The arrival of HD Voice is hotly anticipated by the broadcasting industry, which believes that the service could reduce its reliance on expensive ISDN lines and the need to ferry guests to studios for interviews. Other industries that will benefit significantly from HD Voice include those with significant background noise like the construction and manufacturing industries.